We hear from so many people that they get overwhelmed with all the supplement options available these days and we get that. Personally, we're committed to taking a good handful of supplements daily and find that most doctors and other wellness professionals we talk to do as well. But how do we decide which supplements are worth our time?
One of the buzziest new supplements over the past two years is Tru Niagen®, a unique B3 vitamin called nicotinamide riboside (NR) that helps to increase NAD+ levels. Translation? This daily supplement supports overall cellular health and defense throughout the entire body and could be one of our best defenses against the effects of aging.
We spoke with Dr. Alyssa Dweck to better understand more about NAD+ and the benefits Tru Niagen®...
For the uninitiated, what is NAD+?
Nicotinamide adenine dinucleotide (NAD+) is a vital molecule cells use to help convert food into energy (ATP). Every cell has a unique function, and each cell reliesonNAD+ for performance and survival. From a practical standpoint, this is why maintaining cellular health is essential– our cells use energy so we can eat, play, breathe, function, and enjoy life. Additionally, NAD+ is necessary for cellular resilience and repair. NAD+ levels naturally decline with age and stress. We can takethe reins and replenish our NAD+ stores, actively participating in supporting our cellular function. Simple adjustments in lifestyle and nutrition can maintain this support without massive effort.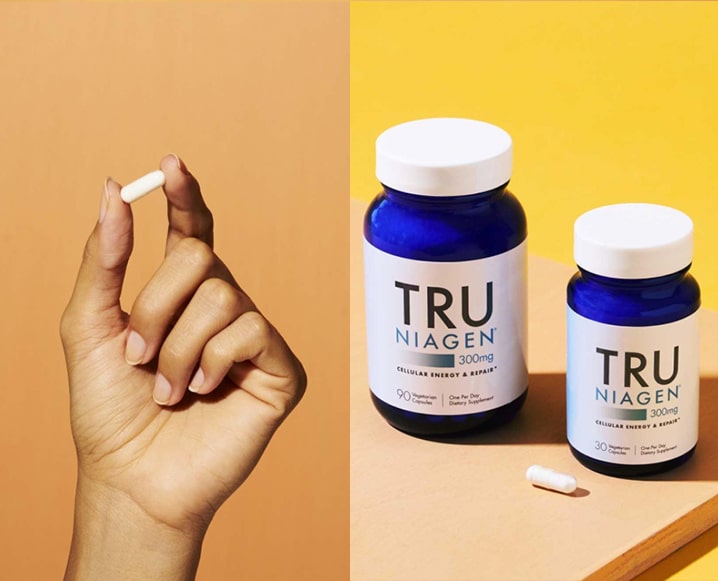 They say we lose up to 50% of our NAD+ levels between the ages of 40 and 60. Canyou explain this to us a bit?
It's true that as we age, our bodies face a normal, natural decline in their ability to produce NAD+. A shallower "pool" of NAD+ means that our mitochondria, the cell powerhouse, has to compete for this resource in order to generate energy. Activity, be it breathing, exercising, digesting or thinking relies upon producing cellular energy effectively. Fortunately, there are solutions!
What are the most important things we should be doing to protect our NAD+ levels?
Protecting cellular health doesn't have to be difficult – concentrate on habits that promote wellness such as maintaining a healthful and balanced diet, maintaining regular exercise and reducing stress. Still, I want to recognize that humans are diverse in their patterns and abilities. We're not all health-nuts, and changing our habits, understandably, takes time and effort!We can easily support our NAD+ levels with a unique B3 vitamin called nicotinamide riboside (NR). NR helps increase NAD+ levels. I routinely recommendTru Niagen®: the only NAD+ booster that is patented and safety reviewed by regulatory bodies around the world, including the United States. Regardless of lifestyle or age, Tru Niagen® supports cellular health with a single capsule a day.
It's said that an 'ounce of prevention is better than a pound of cure'. Should younger people be doing anything to care for their NAD+ levels as well?
Frankly, I recommend my patients of all ages invest in their cellular health. While some suggest that we don't need to worry about NAD+ until we're 40, it's best to invest in health and well-being as a long-term health benefit. Tru Niagen® affords this opportunity safely and effectively.
What do most people experience after taking Tru Niagen® regularly? Can you speak to this or share your own experience?
My personal experience with Tru Niagen® mirrors that of most I choose to lead a busy life both personally and professionally. I need to count on optimal cellular health to do so. Including Tru Niagen® in my daily routine helps to support this effortlessly.
ALYSSA DWECK, MS, MD, FACOG is a practicing gynecologist and ChromaDex spokesperson in Westchester County, New York and Assistant Clinical Professor in the Department of Obstetrics, Gynecology, and Reproductive Science at the Mount Sinai School of Medicine. As an author of three books, a Massachusetts General Hospital, Vincent Memorial OB/GYN Service consultant, and accomplished triathlete, Dr. Dweck offers her expertise across various platforms in an effort to destigmatize gynecologic issues and support women's health across the country. She resides in Westchester County with her husband, their two sons, and their extraordinarily girly English bulldog.
EXCLUSIVE OFFER: TCM Readers will receive $20 off an order of 3 bottles or more using the code"CHALKBOARD20" at checkout. Valid through 4/30/2020.
†When you order 3+ months and enter code CHALKBOARD20 at checkout you'll receive a $20 credit on your first order. Free delivery on orders within the US only. Restrictions apply. Offer expires 5/4/2020 at 11:59pm PT. Not valid on wholesale orders or outside the US. All rights reserved.
This story is brought to you in partnership with Tru Niagen. From time to time, TCM editors choose to partner with brands we believe in to bring our readers special offers. The Chalkboard Mag and its materials are not intended to treat, diagnose, cure or prevent any disease. All material on The Chalkboard Mag is provided for educational purposes only. Always seek the advice of your physician or another qualified healthcare provider for any questions you have regarding a medical condition, and before undertaking any diet, exercise or other health-related programs.