SLOWLY, SAFELY, we're planning on traveling this summer — and we're starting with small hops across California (check out one of our favorite pre-Covid guides to Big Sur here!).
Thanks to our partners at Aero, we're flying the safest way we know how this weekend: out of a small airport far from LAX via a plane that seats only sixteen. Aero's strict health and safety procedures have us feeling super-confident, though the airline is undoubtedly a luxury (they fly to only nine exclusive destinations including Aspen, Mykonos, and Napa).
We're off to check out some of the juiciest new developments in Napa since quarantine went into full effect; first, the new Montage Healdsburg that is gathering all the travel buzz lately and has already landed on Condé Nast Traveler's 2021 "Hot List", then the classic, yet completely redesigned, Solage, Auberge Resorts Collection in Calistoga which we hope to thoroughly document for you via bicycle, phone in hand. Both properties promise all the delicious design features we look for in a travel feature, plus dining and spa amenities that suit our readers' wellness goals (even while away).
Stay tuned for our reviews! In the meantime, here's what our Editor-In-Chief will be packing, from sustainable sundresses to responsibly-made denim, while in Napa weekend…
Janessa Leone Packable Hat + Large Weekender Tote | (Shown above) A wide brimmed hat isn't just an accessory, it's a skincare necessity. While we're all for a good dose of vitamin D, if you'll be sitting by the pool mid-day for hours on end, a hat like this one from beloved L.A. designer, Janessa Leone, will add a layer of protection after that heavy duty application of sunscreen.
We love Janessa's packable hats that somehow manage to stay far from floppy. Even better, her stunning new line of handbags includes a Weekender Tote made to carry your hat for you — just tuck in to the external straps. Anyone who has ever worn a hat in-flight just to avoid crushing it will appreciate this genius design. SHOP NOW 
Mikoh Lana 2 One Piece | We once counted ourselves as one of the bikini-or-bust crowd, until we started wearing more bodysuits and realized just how versatile and flattering a good one-piece could be — especially when traveling. We love all the suits from the sisters behind sustainably-made swimwear brand, Mikoh and this cut-out version with an adjustable tie center is just the ticket to wear to the pool and later pair with a long skirt or great denim for a casual al fresco dinner out. SHOP NOW
GOLDSIGN RIBBED STRETCH-JERSEY TANK A slightly sculptural tank elevates a basic outfit without any effort. Basics like these are key for stress-free packing. Pair the tank with cut offs, wide leg trousers or leather joggers for effortless style that's comfy AF. GOLDSIGN's commitment to sustainable values makes them part of Net-A-Porter's Net Sustain program and part of our own denim-shopping shortlist. SHOP NOW
Cuyana Asymmetrical Earrings + Embellishments | (Shown above) Nothing feels more extra than hauling along a ton of accessories on vacation. Cuyana's smart collection of earrings pair with optional embellishments. Bring their asymmetrical hoops for everyday wear, then dress them up for a fancy dinner out or special occasion by adding their pearl or gold drops. SHOP NOW
paravel packing cubes | You're either a packing cube person or you're not. To know, you must first try them, at least once. Many friends have insisted that I'm only packing more layers into my suitcase by using the cubes, but they've never experienced the miracle of rolling an untold number of t-shirts into a cube and watching them miraculously shrink down into your luggage.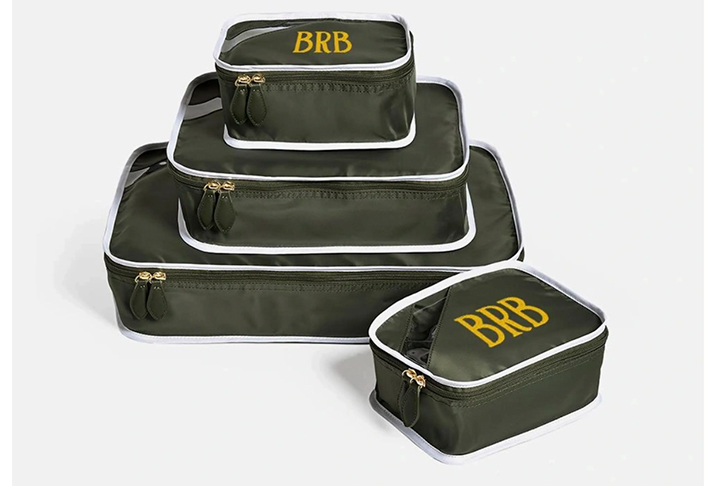 The best part about packing cubes is the convenience of unpacking on arrival. Your clothes will never again shift into a tangled swirl, getting dressed is a dream, and keeping your delicates away from weird items like that laptop charger that's been laying on hotel floors is a cinch. SHOP NOW 
Cuyana Leather Travel Case Set

| (Shown above) Another travel staple you may have seen here on TCM ad nauseam — Cuyana's Travel Case Set. These leather cases come in a wide range of handsome colors and have a beautiful silhouette that'll look great in your day bag or kicking around your hotel room. SHOP NOW
Reformation Side Button Silk Skirt | Sustainable, pretty and luxurious-feeling, this silk skirt is everything you want to wear on vacation. Pair it with a blouse, sweater, crop top or T (anything, really) and cut a few pants and dresses right off your packing list. SHOP NOW
What are your favorite sustainable fashion brands lately? Traveling with them? Let us know where in the comments!