September in L.A. is all about the layering we love so much. And we're pretty sure it's that way most places in the country this time of year. We curated this short list of cozy, transitional pieces and a couple of functional beauty staples that'll take you into the new season in style…
01 Cuyana Leather Laptop Sleeve | Think of this stylish leather laptop sleeve as fall school supplies for grown-ups. A chic accessory like this one adds polish and a bit of fun to an email session anywhere. Bonus points: this sleeve also make the perfect impromptu work surface — the flap even works as a surface for your mouse.  

 02 Will & Bear Wool + Straw Hats | Early fall is a tricky season to dress for — always bring a hat. This sustainable Australian brand makes buckets, beanies, straw and wool hats that will take you through the season with ease. Grab a straw hat for September and switch to wool by mid-October.
03 vapour Lux Conditioning Tint | One of the original super-clean beauty brands, Vapour nailed the multi-purpose color stick right from the top. Pull on a sweater and pop this creamy, subtle color on lips, cheeks and eyes for an easy, healthy glow you're going to love. We're on our third stick.
04 The r brow Conditioning Treatment | Lifestyle editor, Rachel Marlowe just launched a product she couldn't find anywhere: a high-functioning brow gloss and growth serum that was easy to apply and wearable all day. Use the R Brow's comb applicator to apply the serum's natural plant oils as you punch through the work day at home.
05 Kōv Eco Hair Clips | Two reasons to love new indie brand, Kōv — one, their hair clips are made from eco-friendly, plastic-free cellulose acetate and two, their collection of clip sizes are made for a wide variety of hair textures, lengths, and thicknesses.
06 Frank & Eileen Linen Ireland Playsuit | Nothing says 'cozy summer-to-fall transition' like a good pair of coveralls. We're obsessed with this relaxed fit playsuit that's just begging to head out on a stroll with sandals, a good cardigan and glass of orange wine (did you have other fall plans?). The Frank & Eileen brand is deeply committed to sustainable values as a certified B Corp.
07 Bryan Anthonys To the Moon & Back bangle bracelet | A single gold bangle (or a full stack, depending on your style) is a great way to elevate your everyday look without much fuss. These gold bangles by Bryan Anthonys' designer Amber Glassman have a hinged design, meaning the bracelets won't fall to your elbow every minute, and each piece is designed to inspire, an homage to her brother Bryan's legacy.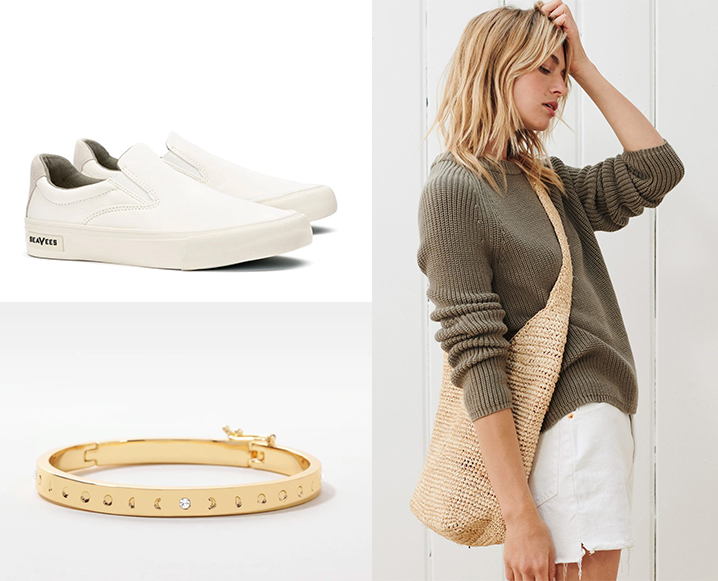 08 Seavees Hawthorne Slip-Ons | This '60's California brand is having a moment. There's no better time to swipe up new white sneakers than the top of fall. Pair these well-styled sneakers (with built-in ventilation and comfort like nobody's business) with everything you're clinging to from summer and all you're embracing for fall!
09 + 10 Jenni Kayne Fisherman Sweater + Cocoon Cardigan | The truth is, the ultimate summer-to-fall transition piece is a cardigan sweater (and Jenni also makes one you'll want to live in!), but we're partial to this classic pullover with the chunky neckline that comes in cotton or upcycled cashmere.
11 + 12 Mono B Recycled Pismo Shorts + Nari Biker Shorts | In the not too distant past, biker shorts seemed so retro and odd. Now, they're an essential staple and we see them simply for the 'cut off' leggings that they truly are. Mono B is female-founded and it shows. Their figure flattering cuts include these Nari shorts in a netural tie-dye we're swooning for and a recycled collection you should shop from top to bottom.
13 Everlane Cotton Bralette | Not wearing bras much these days? This wireless cotton number from Everlane gets the job done with ease under sweaters and Ts — or wear it alone with a cardigan for a cozy-chic WFH look we love.
14 Cuyana Triple Zipper Weekender | It's the perfect time of year for short jaunts to the beach for the weekend and drives up the highway to discover new local wonders. We love this stylishly easy weekend bag made of Turkish cotton and Italian leather. In true Cuyana fashion, the bag is filled with smart compartments to keep you organized while on the move.