Ever wonder what goes down on these health and spirituality retreats that go on for days at a time? What's it really like to work with a wide range of mind-body masters in a short period of time and get vulnerable with a group of people you've likely never met before? With the popularity of luxury wellness retreats like Shift Mind Body Soul on the rise, we've become totally intrigued about travel with mind-body benefits. Shift's retreats offer access to world-class professionals and elevated itineraries designed to nourish, delight and revolutionize retreat-goers. With intense lectures, one-one-one experiences, luxurious meals and the kind of bonding that rarely happens anywhere else, we're left wondering how it really feels to attend a luxe getaway like this in the day-to-day.
We asked writer Ruthie Ackerman who was lucky enough to journey to Hawaii for Shift Mind Body Soul's transformative (and luxurious!) program to share her experience. Here's a glimpse inside a holistic wellness retreat in case you're planning travel for 2020… 
When I was asked to attend Shift Mind Body Soul's wellness program in Maui, I thought I'd be on the sidelines, observing everyone else's transformation, jotting down what I witnessed in my notebook to write a story later. I never expected that I'd be transformed myself. But that's exactly what happened.
My fiancé had come with me, a chance for us to reconnect after trying—and failing—to get pregnant for one year. Everyone told us that as soon as we stopped stressing it would happen, but our lives in New York City weren't exactly relaxing. Maui seemed like the perfect place to breathe and let some of that anxiety go. It seemed like the perfect place to start over on a blank slate. It seemed like the perfect place to heal.
Here's my diary of the six days we spent in Maui:
Sunday | I kissed my fiancé goodbye and walked over to the welcome reception on the white sand beach of Wailea, where everyone checked their shoes and were handed a freshly-cut coconut with a straw. As I sipped the sweet juice, I took in the beauty all around me: the rolling waves, the setting sun, the rocks jutting out into the sea. I'm finally here, I thought to myself. And then I saw Nicole Fogel, the founder of Shift Mind Body Soul, and she wrapped me in a warm embrace. I'm in the right place.
A few minutes later, I felt a tug on my hand and I turned around. The group was gathered in a circle holding hands, while Lei'ohu, a local Hawaiian spiritual visionary and healer anointed us with an ancient prayer for Shift's opening ceremony. She looked exactly like I imagined a Hawaiian healer would look: long, flowing robes, a Zen-like calm radiating off of her. Lei'ohu blessed each one of us and had us set our intentions for our week ahead. I slipped into the circle, grabbed two strangers' hands and closed my eyes.
I don't believe in God, but here I was halfway around the world from my home in New York City so I told myself that I might as well be open to whatever the healer had to offer me. She touched my head and my heart and then we all walked over to the ocean and threw whatever was holding us back out toward the turquoise water. I had a lot to release so I stood there an extra few minutes breathing deeply.
When I returned to the reception, everyone was making flower crowns with the most beautiful flowers I had ever seen in shades of white, pink, peach and red. I struggled to string my flowers together and the instructor smiled. "It's harder than it looks," she reassured me. "Just go ahead and eat and I'll make one for you." So, I ate—and ate—more ahi tuna poke than one person should consume in one sitting. When I was done stuffing myself, I felt a tap on my shoulder and when I turned around a flower crown was placed on my head. Not just any flower crown; the loveliest flower crown I had ever seen. We were told to hold onto this beautiful crown as a symbol of setting our intentions for the week and then release it at the closing ceremony on the last evening.
When it was time to go to bed I had to force myself to take off the crown, but I promised myself that I could wear it tomorrow.
Monday | Tomorrow came before I knew it. We were told to be downstairs at 3:30am so we could watch the sunrise at Haleakala Summit, the world's largest dormant volcano and the heart chakra of the world. Let me start off by saying that I'm not a morning person. And that I was jet-lagged because of the 6-hour time difference. So, 3:30am hurt. But as soon as I got downstairs I saw something even better than a sunrise: a steaming pot of coffee and a bag of healthy breakfast treats.
When we arrived at the volcano, the sky was already starting to explode into shades of blue, orange, purple, and yellow. A silence settled over the crowd, a sign of respect for what we were all witnessing, the only sound the clicking of hundreds of cameras then a low humming chant coming from somewhere in the crowd. I stood there above the clouds watching the sunrise and taking in this powerful and spiritual experience—mesmerized at nature's art show, and happy, for the only time in my life, to be awake at 6am.
Next, we stopped at an incredible property known as a "mindful retreat" where we were introduced to a labyrinth to do a walking meditation. There were no rules except to pay attention to what came up as we walked. I noticed that I kept wondering if I was doing it "right." I felt like everyone else must be doing this whole walking meditation thing better than me. They seemed like experts while I was obviously a newbie, which was laughable since most of us had never walked a labyrinth before (and what makes someone an expert labyrinth walker anyway?).
When we all gathered afterward to discuss our experience, a lot of us talked about our fears. Fear of losing loved ones. Fear that people wouldn't like us if we showed them who we really were. Fear of not being good enough.  Eve, the labyrinth expert who led our discussion and taught us about the meaning and symbolism of walking a labyrinth, called those "fear boulders" and assured us that if we looked underneath them we'd see what we really treasured. That was when it hit me: Beneath my fear of not walking the labyrinth correctly was my desire to be loved for all of my messiness, all of my flaws. I loved other people despite their imperfections. Wouldn't others do the same for me? The labyrinth exercise is where transformative experiences began for the group and what set the tone for the rest of the week.
By then I was starving. We were told there would be a picnic lunch so I imagined we'd be given picnic baskets and blankets and handed a sandwich and a bag of chips. The reality was beyond my wildest dreams. We were brought to a bamboo grove inside a private estate with acres and acres of land where a long table filled with the loveliest of Alice-in-Wonderland-like spreads was set up in a field of grass overlooking the mountains. We spent the next two hours, sitting on pillows, stuffing ourselves silly from a grazing board the length of what seemed to be a mile-long table, a three-course meal and the most mouth-watering passion fruit cake I had ever tasted. I couldn't believe it when I was told it was vegan and gluten-free.
The afternoon ended with me laying back and closing my eyes, drifting off into a daydream while everyone's conversations rose and fell all around me.
Tuesday | The next morning started with energizing yoga followed by group reiki and energy healing. Lucia, the reiki healer, sat in the center of the room and asked each of us to tell everyone why we were there. I surprised myself by getting choked up as I told the room that I thought I'd have a baby by now. Even if I got pregnant today I'd be 43 before I gave birth. The year of trying. The shots. The pain of not knowing if anything we did would ever work. Was there something wrong with me? After I was done speaking, Lucia asked us all to lie back down and a few minutes later she put her hands above my head and heart as she sent me healing energy. For a few seconds, I tried to imagine everyone in the room was giving me a group hug and I felt better.
I didn't know it was possible to be hungry again after yesterday's "picnic" lunch, but I was. My fiancé joined me for breakfast and we ordered the Shift smoothie of the day and an acai bowl to refuel before heading to the beach for a morning swim. Everyone had told me there were turtles in the water just in front of the hotel so I dove in hoping to spot one. No luck. We did see tiny, colorful fish swimming by our feet though. The rest of the day I did my own thing and found out later on that I missed out on the most moving and uplifting Mindful Awareness workshops led by Erin Lotz.
After dinner, we were told to dress comfortably for the sacred sound bath. I'd never experienced a sound bath before so I wasn't sure what to expect. When I arrived, everyone was already laying their yoga mats down on the floor and gathering blankets and pillows so I did the same. At the front of room were Christine & Paul, who would be guiding us through the meditation. Paul was playing what looked like dozens of sound bowls while Christine sprayed the room with rose water mist. I had brought a few of the crystals I had been given in my Shift welcome gift bag when I arrived and as I laid down I put the rose quartz on my belly hoping it would bring me luck with getting pregnant. Christine's voice was so soothing, like the voice of someone on a meditation app, and it lulled me into a trance-like state as the sounds of the bowls grew louder and then softer and then louder again and all of my anxiety seemed to float away.
Wednesday | Every year on New Year's Day I write down what my ideal week would look like and every year I write the same thing: I want to start off my day with a swim. So, that's what I did. After morning yoga and guided meditation, I put on my bathing suit and my fiancé and I headed to the beach still half asleep. By the time, I dunked myself in the cool water, though, I was wide awake. Note to self: Find a place in New York City where I can swim every morning even if it's nowhere near as gorgeous as the beach of Wailea.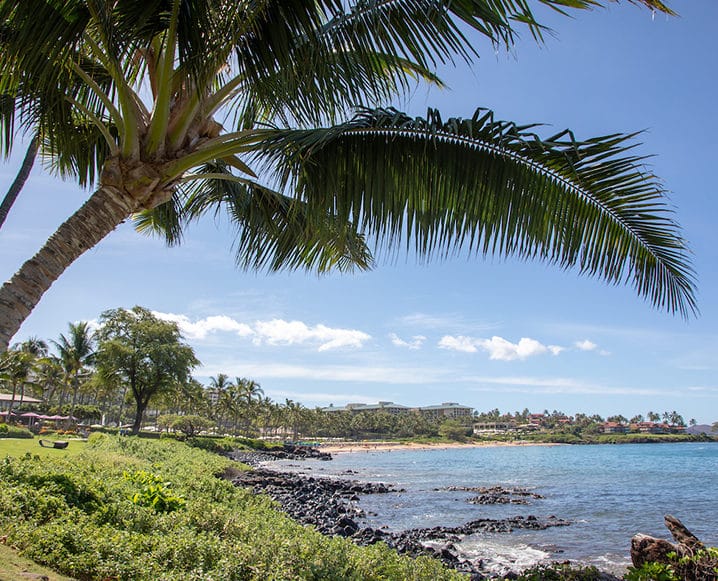 After breakfast, we swam in the infinity pool overlooking the other islands of Hawaii, alternating between the pool and the hot tub, the cool and the warm soothing our frayed nerves, one of the many downsides of the urban grind.
That afternoon after an incredible lunch followed by an informative workshop led by holistic nutritionist, Elissa Goodman, I had a deep tissue massage at the hotel spa and right away my masseuse noticed how much tension I held in my shoulders and neck. As she pushed her fingers deep into my muscles, I felt my whole body truly relax for what felt like the first time in years. After it was over, she handed me a green juice and told me I could wear the robe she had given me back up to my room.
When I got there, my fiancé and I decided to walk down the beach a bit to what we were told was one of the best snorkel spots on the island. As soon as we put on our masks, we knew why: Right in front of us were the most beautiful fish we'd ever seen in every color of the rainbow. We swam along with them for what felt like an hour and when we stood up to walk back to our towels, we noticed that we could see the fish in the crystal-clear water without even putting on our masks.
That evening we indulged in a beautiful dinner at the hotel followed by a star gazing activity where we learned about the Hawaiian star system and other local ancestral folklore.
Thursday | After this morning's yoga and group meditation, Lori Harris, Shift's event strategist, urged me to try paddle boarding even though I'm always terrified of everything. I can't roller skate, ice skate or even ride a bike so when she told me about paddleboarding I laughed out loud. Literally. But then she said everyone else was doing it, which appealed to my competitive side, and I said I'd give it a try. Try being the keyword.
And guess what? With the help of Blaze, one of our paddleboard instructors, I stood up on the board with Nicole and the rest of our group cheering me on the whole time. A wave of confidence washed over me. I can do anything I set my mind to. I can choose where to focus my energy and I don't have to focus on fear.
That afternoon we were invited into our third workshop of the week led by Peter Crone, "The Mind Architect." This was the spiritual healing component of the program and it aligned perfectly for where I was in my Shift wellness journey.
Before dinner, a few of us gathered on the beach for what was labeled the "flying wish paper activity" on our itinerary. I wasn't sure what to expect, I had never heard of flying wish paper, but I headed down to the beach open-minded. Amanda, who led the activity, had us write down all of the things we wanted to let go of in our lives on a piece of red paper and put it in a hole she dug in the sand. I wrote feeling unlovable and feeling like I'm not good enough just the way I am on my papers, crumbled them into a ball and Amanda lit them on fire. "Inhale what you want to bring into your life," she said and I inhaled the idea that I'm ready to be a mother. "Exhale what you want to release," she continued and I exhaled all of my regret and sadness and anger.
After our beautiful dinner on the lawn we were treated to a screening of the movie "Heal." Peter Crone was one of the experts featured in the movie.
Friday | The last day of the retreat started off with yoga on the beach and then an amazing alignment workshop with Lauren Roxburgh. We spent over an hour working on our core and rolling out our bodies with foam rollers and domes. I yelped, a mixture of pain and relief, when I rolled out each hip and thigh, and Lauren insisted that the pain was a sign that it was working. I hoped she was right. I wanted to look taller and leaner. I wanted to look just like Lauren. That didn't happen, but by the time the workshop was over my body definitely felt looser, which I took as a good sign.
After our last group lunch, we got to attend a moderated panel with all four experts that led workshops throughout the week. This discussion helped thread the needle that was woven through each day of the program. Following the panel, I had the opportunity to individually meet with Peter Crone, who helps people to understand their own self-limiting beliefs. He started off by asking me about my childhood and what I believed was holding me back now. I told him the same things I wrote down last night during the flying wish paper activity. I felt unlovable and that I wasn't enough. "Believing you're enough is a big leap, but can you agree that if I cut you open that you wouldn't have a label inside you that said you're not enough?" I nodded. I knew I wasn't inherently defective. "So, then even if you can't say 'I'm enough', can you say 'I'm not not enough'?" The double negative kept catching in my throat, but after practicing a few times together I could say it: "I'm not not enough."
I was getting somewhere so I decided to tell Peter about my struggle to get pregnant. He closed his eyes and smiled slightly. "You couldn't get pregnant before today," he said, because I'd been carrying around the feeling that I wasn't enough. "Today is really the first day you could get pregnant." I exhaled the weight of everything I'd been carrying all these years. The feelings of inadequacy, of perfectionism. He told me that I looked lighter, he could tell I was breathing more deeply.
Before I left I hugged Peter. I wasn't sure that after trying to get pregnant for so long it would happen so easily, but I could thank Peter for teaching me a new mantra: I'm not not enough.
I took that mantra with me to our closing ceremony which began with Lei'ohu, the Hawaiian spiritual leader having us stand in a circle again, just like we had on Sunday. I'm not not enough, I said to myself silently, as I stood holding hands with the women that were no longer strangers. I'm not not enough, I said to the ocean as I said goodbye one final time.
Back at the reception awaited an elaborate Hawaiian feast where we were entertained by a ukulele player, a hula dancer and a fire dancer to wrap up the week's festivities. We all marveled at how meaningful and special the week was and how unexpected it was to have created such special bonds with one another. Every detail of the week was thought out; from the well-rounded mindfulness workshops to the hybrid of wellness experts. The local spiritual healers of the island, the health-conscious wellness menus at every meal and the elegant decor at all the events were the icing on the cake.
Interested in wellness travel? Stay tuned for SHIFT Mind Body Soul's upcoming
announcement of newtransformative travel experiences here in 2020!