In our TCM Item of the Week feature, we call out just one item we're either literally or figuratively drooling over at the moment.
As we hit one of our favorite fashion seasons of the year, that tricky, yet enchanting early fall — sweater weather looming, we're hoarding all these classic sneakers from new-to-us California brand, Seavees.
A good white sneaker goes with absolutely everything we're wearing now!
WHAT IT IS: Think 1960's California — the vibe of vibes. Seavees classic white sneaker emulated the sunny, laid-back look like little else, first hitting the Cali. crowd in 1964. Hard to believe, but in the mid-60's, sneakers were just becoming the casualwear essential that they are today. Iconic shoe ads from brands like Seavees first put sneakers on the map as streetwear outside the gym.
Fast forward to today and no wardrobe is complete without a few good pairs of sneakers — slip ons, lace-ups and maybe a good platform.
On a practical note, we were surprised by how comfortable these sneakers were: each pair has a contoured cushy memory foam footbed makes these sneakers a perfect fit for a long day romping around the city or handling life at home or work. The sneakers are also designed with air flow in mind including perforations and airflow channels.
Here are our favorites from Seavees and an exclusive offer to shop for 20% off.
WHY WE'RE OBSESSED: We love the classic, structured look of these top sneaker picks from Seavees: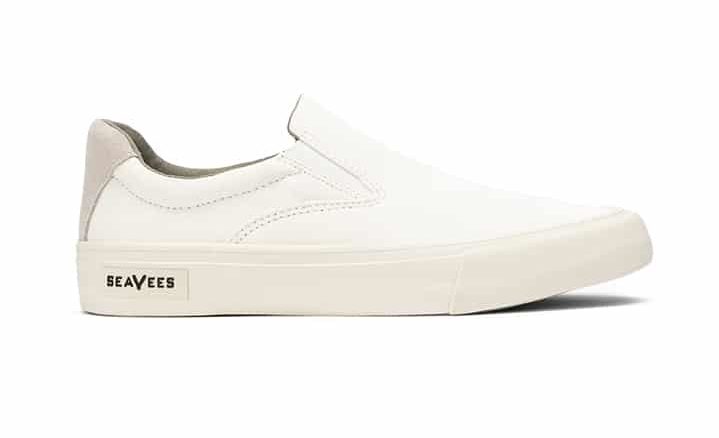 Seavees Hawthorne Classic Slip On | The styled detail at the heel on this slip-on– a LWG (Leather Working Group) certified and sustainable suede backstay — adds an element of polish that we love. Extremely comfortable, breathable and named for the Beach Boys hometown. (Yes, these do come in Mens too!) SHOP NOW

Seavees Cowhide Baha Platform | Call us crazy, but we feel like these cowprint platforms qualify as a neutral. Our top pick with denim and a cozy cardigan sweater. Sign us up and toss us a good spiced latte. SHOP NOW


Seavees Suede Huntington Middie | When you want something more substantial than a low-slung sneaker, but not quite a boot, these suede middies are the perfect fit. They're cushy inside, well-ventilated and feature Seavees super-grippy sole. We love them with cropped denim or well-styled joggers. SHOP NOW


Seavees Recycled Cotton Legend Sneaker | Last, but not least, these lace-up classics are vegan and made in a modern, recycled material you'll feel good about wearing. We're not sure how we made it so long without these in our closet. The ultimate travel sneaker. SHOP NOW
Seavees also partners with SeaTrees, a non-profit who works to restore coastal ecosystems and ocean health globally – by regenerating one foot of kelp forest for every pair of shoes sold.
HOW TO SNAG A PAIR: Which shoe is for you? You'll be happy to know Seavees uses only natural rubber, leather and no synthetics. They adhere to strict ethical standards in their family-owned factories including best-practice living wages and a zero tolerance policy on child labor.
They also make several adorable vegan styles, like these spot-on faux shearling Gallery Sneakers.
We were thrilled to discover this under-the-radar California legacy brand. If you're looking for flattering, but trend-proof classic sneakers that are made to last, we've got you covered! Shop Seavees for 20% off (again, they make Mens too!) with code CHALKBOARD — and let us know which styles you buy!