Sophie Jaffe is a superfood entrepreneur, raw food chef, yogi and mama to the cutest boys. With a brand new babe on the way — a little girl!– Sophie is enlisting her best holistic tips to float through the process and feel good along the way. Here's how this long-time TCM contributor is getting ready for the vibrant and vulnerable period after giving birth…
The meaning of postpartum in Latin is literally "bringing forth" or "after birth." This definition emphasizes that after having a baby, we women are in a postpartum state. We never return back to the way we were before birth. For thousands of years women have taken time to recharge and rejuvenate after giving birth. This has been a sacred time period across cultures, from Chinese traditions where women take four weeks for their emotional and spiritual well being, to India and Japan where a new mother goes to her own mother's home for six weeks so she is relieved of all household duties. Many cultures share the idea of a golden month, or confinement period, that is anywhere from 20-60 days and often around 40 days.
Only in the past 50 years has modern society changed so dramatically that, especially in Western countries, families have become smaller and family support for new mamas is dwindling. Women are working full time now and, more often than not, consider self care and taking time for themselves to be selfish or excessive. I see it differently.
I'm nearing the end of my pregnancy of our third little angel. My husband Adi and I are so beyond ready to bring a little girl into this world. This season has been all about preparing our home and getting ready for her arrival. My pregnancy has been extremely introverted as I connect to my rhythms and quietness, honoring this stage of transition into a new phase of my life.
I recently had a consultation with an amazing postpartum ayurvedic doula, Jenna Furnari. She was gentle, understanding and so helpful as I prepare for the arrival of our baby girl. She has helped me begin the transition from pregnancy to birth and has worked with me on my plan for the first forty days after birth.
This will be such a sacred time for my family, myself and our baby. I encourage any mama-to-be to learn more about this practice and have her own consultation with a doula. It's life-changing. Here's a inside look at what I'll be doing to transition into a life with a baby again and the first forty days postpartum.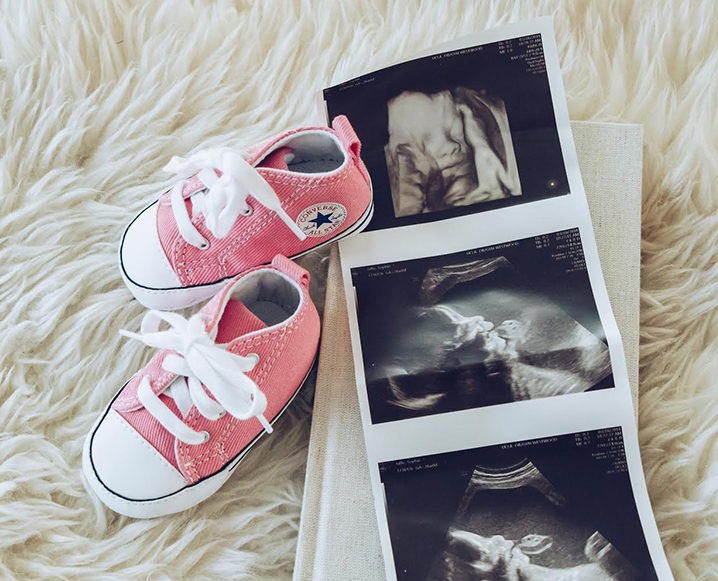 Preparation
As I'm nearing my due date, I am starting to prepare – mentally, emotionally and physically – for what's to come.
We are preparing our home, making sacred space for Baby Girl, clearing out what we no longer need and getting everything organized for the boys. I am working with the brilliant Dany from Spatial Soulutions who really understands our home and the inner workings of a mother (she was a preschool teacher for years).
I've held a couple New Moon circles with my soul sisters, welcoming in sacred, positive energy and clearing out the old, stagnant air. I've focused on a full mind + body connection as I work to create a magnetic and welcoming home for Baby Girl.
I have taken a lot of time to myself to reflect and meditate. Getting massages at home has been so beneficial to my sanity and my aching body. I've been using Zeel app, which I highly recommend, for on-demand massages. I've been working to energetically create the space to welcome a baby girl into this reality, to this world. I'm ready to show up completely for it all. This pregnancy has been a long, life-changing journey and I'm ready for the next step.
The Sacred Pause
Working with a doula and checking into my own needs has helped me develop a plan for the first 40 days after birth. Since my life is so chaotic and full of beauty, work, passion and magic, I need to really set intentions that surround what I want to create.
I want to take a full month to bond with Baby Girl. Both ayurvedic and Chinese medicine promote taking a full month to 40 days to really heal and connect to this new chapter in your life.
I will be continuing to work with Jenna Furnari. She will be working with me two days a week for around five hours each session. During the days she is with me, she will help prepare ayurvedic nourishing foods, help me with emotional and physical recovery, support me in breastfeeding, babywearing and spending time with baby so I can rest.
She has encourage me that this precious time will not only be all about the baby, but also about my own recovery and regrowth. Everything will be taken at my own speed. It'll be really important to block out the chaos of my "normal" life in order to build a new, connected relationship with little babe outside of the womb.
She will also do ayurvedic birth recovery bodywork and help with the transition for the entire household to adjust to new roles (this will be very important for Kai and Leo).
She will make us lists of what to purchase and then we will get all our groceries and stock the fridge so she can come and help prepare nourishing foods for me. She has mapped out a food plan for everything from the first 24 hours that includes warmed/spiced milk and panchakola ghee to three days postpartum that includes stuffed dates, stewed fruits, Mama Chai tea and Lactation Tea. She'll also be delivering to the hospital for the first day or two. The time after having a baby needs to be nourishing as the body has undergone extreme trauma giving birth and the nine months of growing the babe. I'm excited for a slow, mindful recovery.
During these 40 days we will only allow our inner circle family and close friends into our home. This will be a sacred time full of love, bonding, sweetness, recovery and intimate moments.
Thank you for being a beautiful community to allow me to share in this space.