This fall, one of our favorite clean skincare brands, True Botanicals launches at The Detox Market both in store and online. We love to see the brand land inside one of our most trusted curators of clean products!
Actor, filmmaker and activist, Olivia Wilde stumbled upon True Botanicals after struggling with breakouts in her 30s and searching for natural alternatives to her dermatologist's recommendations. Shared Olivia, "Nothing had been effective enough for me. And if it was, I would look deeper in the ingredients and find that it wasn't good enough."
In 2017, Olivia moved from True Botanicals skincare devotee to official Chief Brand Activist, joining forces with the clean brand to advocate for transparency, sustainability and nontoxic ingredients in the beauty industry.
So what does Olivia actually use from the meticulously clean (and divine-smelling) brand?
Inside Olivia Wilde's 4-Step Daily Skincare Routine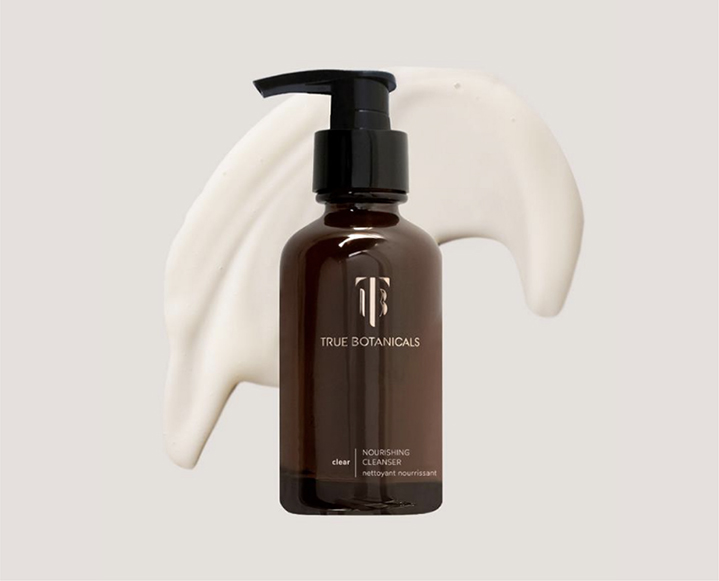 Step 01 | Clear Nourishing Cleanser
"In the morning, I wash my face with the True Botanicals Clear Nourishing Cleanser to keep breakouts at bay. It's really gentle."  Shop the Cleanser
Step 02 | Renew Nutrient Mist
"Then I spritz on some of the Renew Nutrient Mist, it's one of my favorites — I use it throughout the day, while traveling and it also sets makeup really well. Kind of keeps it dewy and fresh."  Shop the Mist
Step 03 | Clear Pure Radiance Oil & Vitamin C Booster
"For years I've searched for something that would clear up my skin, but also leave it moisturized. This oil does just that. I apply it after cleansing and mix it with the Vitamin C Booster three times a week. It absorbs so quickly and it makes my skin feel younger."  Shop the Booster
Step 4 | Moisture Lock Overnight Mask
"I finish off my nighttime routine by applying a thin layer of this mask and I'm amazed at how much softer and plumper my skin looked and felt after just one night. My face has never felt this smooth before in my life."  Shop the Mask
True Botanicals is now finally available at our go-to clean beauty retailer, The Detox Market. Everything the brand creates is vegan, cruelty-free, sustainably sourced and MADE SAFE® certified without 6,500 toxins. Every True Botanicals product also smell like heaven — an added benefit for choosing responsibly-made products!  

This story is brought to you in partnership with The Detox Market. From time to time, TCM editors choose to partner with brands we believe in to bring our readers special offers. The Chalkboard Mag and its materials are not intended to treat, diagnose, cure or prevent any disease. All material on The Chalkboard Mag is provided for educational purposes only. Always seek the advice of your physician or another qualified healthcare provider for any questions you have regarding a medical condition, and before undertaking any diet, exercise or other health-related programs.