Wanderlust hits us like a seasonal allergy the second it starts to get warm. We get an itch to ditch the office and explore the world around us. Our latest inspiration is this wellness-minded guide to Mallorca, Spain. Two local wellness pros — holistic nutritionist, Kristin Dahl, and certified health coach, Alexa Gray — recently visited the stunning Spanish islands and offered to share their local findings with our readers. This thoughtful guide to Mallorca is the perfect thing to bookmark if you're planning a future getaway, or just as lovely to explore when your mind needs a break from local life…
The majestic mountains and picturesque villages of the Spanish Balearic island Mallorca offer a place of serenity and quietude for those looking to unwind. It's the kind of place where you wake up more rested than you've been in years and move through the days with an unforgettable ease. While the capital city of Palma is filled with cosmopolitan vibes, places like Valldemossa and Deià offer epic mountain views, cobblestone streets, and magical layers of wisteria, bougainvillea and jasmine. Sink into the moments and reclaim your sense of calm with a guide to exploring this special place.
The Wellness Girl's Guide to Traveling Mallorca
TO EAT:
In Palma
Spot — A gorgeous space with live music, a beautiful bar and lovely Mediterranean decor. The menu is focused on healthy, high-quality, organic and seasonal ingredients, with many vegan, vegetarian and gluten-free options. Everything on the menu is delicious, and worth the drive to Palma if you're staying elsewhere on the island.
Ziva To Go — An organic vegan cafe in Palma with tasty cooked bowls, fresh juices and raw foods. The perfect place to pick up healthy snacks and superfoods.
Simple Smart Food Bar — With two locations on the island, this healthy spot offers great options for grab and go juices, smoothies and salads. They also offer juice cleanses and detox menu programs.
Mama Carmen — A small sweet cafe in Palma for matcha, coffee and healthy brunch. They make fresh juice and their own almond milk. Everything is organic, locally sourced and fresh as can be.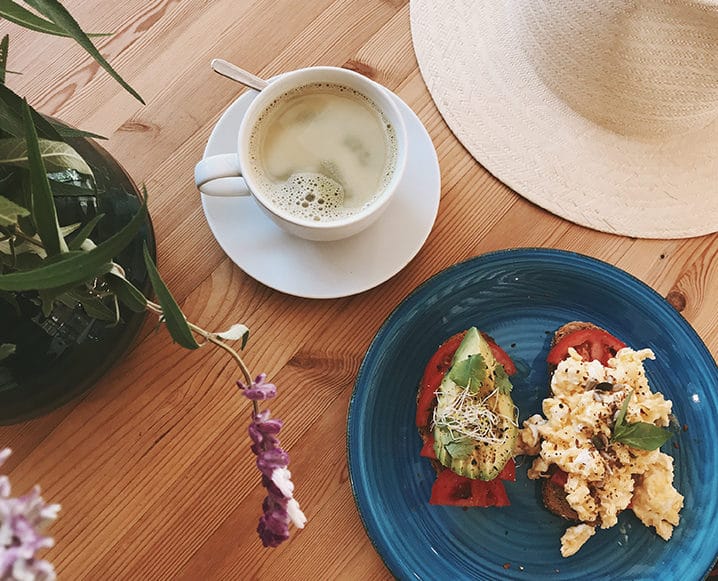 In Deià
Nama — A modern organic Asian restaurant with vegan offerings. They source all of their produce locally and offer cooking classes, too. Next door you'll find Sushi by Nama — Japanese food with a Mexican flair. Definitely one of the favorite restaurants on the island.
Cafe Social — A traveling cafe with specialty coffees, golden milk lattes and gluten-free goods. The Argentinian owner and his wife are such sweet company — you may stay a while to chat with the locals and check out the farmers market nearby.
S'Hortet Deia — A great spot for breakfast before a hike down Cala Deià to the beach. There's a lovely view of the mountains plus outdoor seating area with lots of vegetarian and gluten-free options.
In Soller
Neni — Modern Telavivian fare with vegetarian options. Located inside the Bikini Hotel with views of the harbor.
Sa Figuera — Mediterranean fare with local and seasonal produce from their own organic garden.
To Stay:
Sa Pedrissa — A sustainable, four-star hotel born from a 17th century Mallorcan house with spectacular views of the Serra de Tramuntana mountains and Mediterranean sea. Surrounded by gardens and nature, Sa Pedrissa is just minutes away from the charming village in Deià. The hotel's philosophy revolves around a respect for nature and sustainability. Their organic garden is nourished by a greywater system, there are solar panels on all of the rooms and they only source produce from local suppliers. The property is calm, quiet and the perfect place to relax in peace. You'll wake up deeply rested after a stay at Sa Pedrissa.
La Residencia hotel — A luxury hotel perched by the village of Deià and set between the Tramuntana mountains and the Mediterranean sea. Walk through the citrus trees or olive groves after viewing a collection of over 750 paintings from local artists. The spa is one of the best on Mallorca with facials and massages that will reset your body, mind and soul.
To Play:
Places like Cala Romantica, Cala Mandia and Cala Murada have beautiful beaches where the crowds aren't too over the top, but Deià is our choice for subdued beaches, peace of mind and some of the most beautiful hiking in the world.
Cala Deia — Hike down through one of the most beautiful and idyllic parts of the island. About 30 minutes from the center of Deià, the journey brings you to a rocky beach and small cove filled with clear blue Mediterranean water. There are two restaurants perched on the rocks that offer fish and local fare.
Sa Foradada — Hike about an hour through rocky forest trails and pastoral mountain cliffs that peer over majestic views of the Mediterranean.
Rama yoga —Workshops, classes and yoga teacher trainings from the infamous Kundalini studio in Palma, Mallorca.
Bodega Ribas — Mallorca's oldest winery, which has been in the same family for over 300 years. Ribas is an organic winery and hosts the widest diversity of native grape varieties on the island. Their wine tour includes a walk-and-talk through the property and process, plus tastings hosted in their 18th century home, which remains intact with original decor and fixtures. Organic wines are paired with local olives, cheese, charcuterie, gluten-free bread and olive oil. The Ribas family philosophy is centered around quality, integrity and preservation. The love and history run deep through the land on this beautiful estate. Well worth the visit.
Son Marroig — Stop by for an evening drink and a view of the sunset in Deià.
Try tea on the Terrace at La Residencia.
There are many museums and art galleries to check out in Deià — I suggest the La Residencia's gallery Tofana and The Robert Graves Museum and Archaeological museum.
The Deià International Music Festival takes place every summer between May and September across some of the village's most iconic buildings.
Love this guide to Mallorca? Explore this guide to Portugal next.

Also Check Out "A Patagonian Travelog: Eco-Travel on the Edge"