What if you could wake up each morning — whether that's to a cranky roommate, a hungry brood of kids or the perfect snuggle buddy — and look like a million bucks right out of bed? We're not sure it's possible, but we certainly feel like a cool mill' waking up with our lashes perfectly curled and coiffed after a lash lift. And Sarah Maxwell is our go-to for some of the best lashes in LA.
A good lash lift is our number one beauty recommendation for women who are busy as hell, but want to look their best without a lot of fuss. Here's why:
+ A lash lift requires just one appointment. The lift is an hour long spa appointment for the lash artist and, basically, a nap for you (just one more reason this is the ultimate busy mom's beauty treatment). Lying down, you've got to keep your eyes closed while the lift happens and, but for one awkward moment when your lashes are carefully combed and prepped, the treatment is a total breeze.
+ Lash lifts last about 4-6 weeks. Once your lashes are 'lifted', they'll stay in place for about four to six weeks (see the after above). Unlike lash extensions that require constant (and pricey) fill appointments and painstaking care every morning and night, lash lifts require very little maintenance. If you don't choose to get another lift, your lashes will slowly retain their original uncurled state without any weird growing-out phase.
+ Lifted lashes are pretty darn transformative. Perfect lashes make a big impact on the look of the entire face. A lash lift is akin to permanent makeup — but without the obvious cringiness of, say, permanent lip liner. If you normally wear makeup but are going bare-faced at home, for an early morning class, school run or workout, a lash lift can make you feel incredibly put together without lifting a finger.
We've become major lash lift proponents for all the reasons above — it's one of the easiest beauty treatments to get and maintain and the pay off is pretty major.
Our favorite lash guru in LA is makeup artist and Livylash founder, Sarah Maxwell whose client roster reads like a who's who in Los Angeles. We've been lucky enough to get booked in with Sarah a few times and asked her to open up her schedule for more TCM readers in LA to book with her this spring! Here's where she'll be this March and April, in addition to at-home visits which can also be booked, but are a little pricier.
Sarah Maxwell will be working her magic at Kelly Atterton's stunning new shop, Atterton on Beverly Glen and inside top non-toxic salon, tenoverten at the Platform in Culver City.
These appointments go fast, but we're giving you an exclusive early opportunity to get in on one:
Atterton dates: March 13th and March 31st
tenoverten  dates: April 2nd and April 3rd
Whether or not you go all-in on a treatment with Sarah Maxwell, we were also thrilled to try her new Livylash products and were quite honestly blown away. Her Daily Lash Ritual (The DLR) includes three wands: a growth serum, keratin conditioner and mascara (all non-toxic, paraben and cruelty free). We can't pick a favorite, which isn't a problem because Sarah instructed us to layer on all three! We've definitely been seeing results, but, perhaps most importantly, the Sculpting Mascara is a dream with an adaptable wand and formula that's become our new favorite.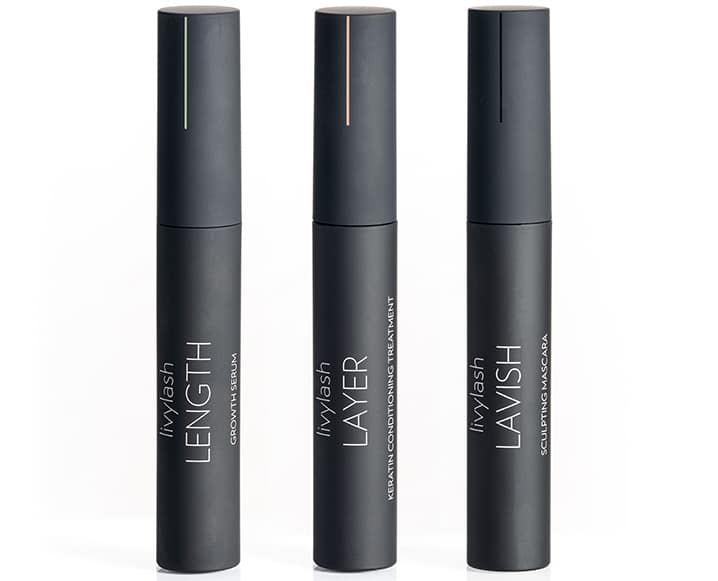 The Growth serum | Livylash Length Step one of the livylash Daily Lash Ritual. Nourish your lashes with natural plant extracts to stimulate new growth and encourage a longer, thicker, darker lash cycle. See results in as little as 2-3 weeks when used with livylash Layer keratin conditioning treatment. Sarah's exclusive doe-foot applicator allows for easy application across the entire lash line. Shop here
The Keratin Conditioning Treatment | Livylash Layer Step two of the livylash Daily Lash Ritual. Fortify your cuticles and add a nourishing, hydrating layer, sealing in the essential vitamins and restoring your lashes to their youthful, natural state. The Keratin in livylash Layer mimics the natural polypeptide chains in your lashes, bonding to the rough edges of individual lashes, covering the cuticle, repairing any damage, and promoting strength. Shop here
The Sculpting Mascara | Livylash Lavish Step three of the livylash Daily Lash Ritual. Sculpt, refine, and separate your healthy lashes with this smooth, lightweight mascara. Featuring Sarah's precision mascara wand, this flexible, clump-free formula allows for a detailed application that will enhance your lashes all day long. Shop here
To try Livylash for yourself, use code: CHALKBOARD20 at checkout for 20% off your entire order during March.