hot yoga swamp monster is far from the au courant brunch look we're hoping to pull off this weekend. We know you feel us. A few weeks back, we got an earful on Instagram when we asked followers to tell us the fitness solutions they were looking for — how to look cute after the gym topped the list!
Figuring out how to navigate post-workout social activities might seem like a silly concern, but think about just how many times your social calendar has kept you from booking that class. With a few tricks and gym bag beauty products, you can make dinner plans without holding back in class.
Here are a few of our favorite products for dealing with that flushed face, sweaty bod and questionable ponytail. Remember to remove your makeup before your workout whenever possible to keep skin in tip-top condition…
C. Lavie Micellaire Lotion .5 | Micellar water is the low-maintenance cleanser French girls swear by. Micellar water is made up of tiny balls of cleansing oil molecules suspended in soft water. It helps draw out impurities without drying out the skin. It also removes makeup like a champ. If you have smudged mascara or just a sweaty face, this is the ultimate quick fix – no water required! This specific bottle gets bonus points for its heavenly (and 100% natural) floral scent. CHECK OUT
RMS Beauty Naturally Perfect Palette | This creamy palette of sheer colors is perfect for leveraging your post-gym glow. Thanks to the shimmering coconut oil base, these multi-purpose color creams work well on a flushed face to highlight, tame brows, and add a little color to skin and lips. The Mod Collection, contains these RMS signature products: master mixer, living luminizer, smile lip2cheek, spell lip2cheek, simply cocoa lip and skin balm. CHECK OUT
beautycounter Moisturizing Facial Mist
 | Spritz on this facial mist for an instant complexion resurrection. It's especially lovely to use at gym while skin is too sweaty to moisturize. Formulated with charcoal and kaolin clay, this revitalizing mist absorbs excess oil and helps calm skin redness and inflammation instantly. 
CHECK OUT
Yuni Shower Sheets
| When you just don't have time to shower after a sweat sesh — or you just won't be caught dead in a shared bathing space — these biodegradable body wipes are total lifesavers. They're the next best thing to a total scrub-down. Because they are individually packaged, using them every time you hit the gym can cause unnecessary waste, but for the days you're short on time they're a great hack! 
CHECK OUT
Ilia Cooling Cucumber Stick | Made with a base of incredibly calming ingredients, this redness-reducing stick contains cucumber pulp, aloe, and anti-inflammatory chicory root. Roll it over your eyes, face, neck and decollete for a flash of hydration and a fast-acting cooling effect. CHECK OUT
Tweezerman ProCurl Eyelash Curler
| Don't underestimate the power of a curled lash. Curled lashes quickly frame your eyes, instantly making lashes look darker and fuller without piling mascara near sweaty skin. 
CHECK OUT
Caudalie Vinosource Moisturizing Sorbet
| Sweating is good for you, but a heavy sweat sesh at the gym can leave your skin thirsty. Not only is your body losing moisture while it burns, but the salt in our sweat can have an instantly noticeable drying effect on the skin. Pack a light moisturizer or oil to use in the car after your hot sticky skin has cooled. CHECK OUT
Donni Hairband
| We love a bowed hairband for getting our post gym hair situation in check. This version doesn't squeeze your head as most headbands do and slides right on for a playful, yet polished look. 
CHECK OUT
Tatcha Oil Blotting Papers | Made of 100% natural abaca leaf and gold flakes, these delicate but powerful sheets absorb excess oil. CHECK OUT
Playa Pure Dry Shampoo | Dry shampoo for the win! This non-toxic dry shampoo is made with a blend of botanicals that help suck up sweat and oil for revitalized hair in a flash. Undo your ponytail, spritz a little in and shake throughout. Reset your hair into a refreshed updo. CHECK OUT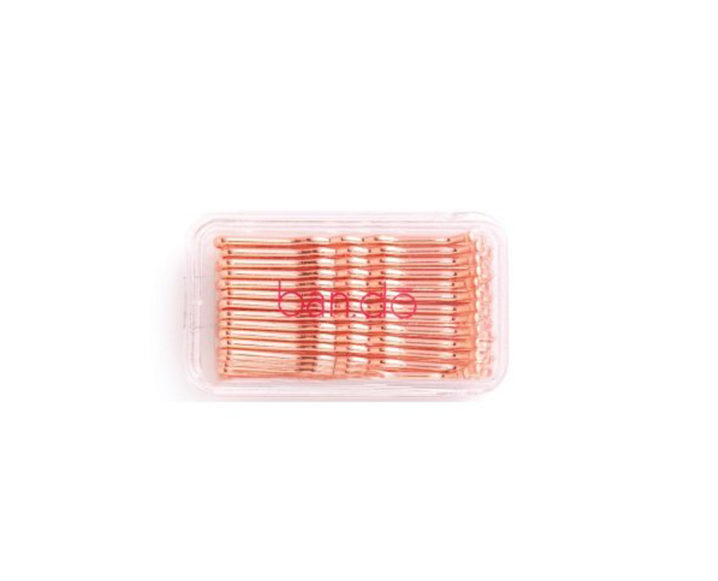 Ban.do Bobbi Pins | When all hope for cute hair is lost after the gym, slick those strands into a ponytail or french braid. Make those little flyaways play nice with these cute bobby pins that double as jewelry.  CHECK OUT
Donni Scrunchie | The scrunchy is back big time. A cute scrunchy won't cover up your crazy post gym hair but it will help tame it — and add style points. The soft cloth makes it easy to slide over even the most sweat tangled strands. CHECK OUT

What are you own tips and tricks for pulling yourself together
post-gym? Share in the comments below!