Welcome to the third day of our 12-Day Holiday Gift Guide! Join us daily for gifts we're obsessing over, and an exclusive offer to shop for the season…
Sustainable fashion can be luxurious. And that's just what L.A.'s Andrea Racey set out to prove when she launched her silk sleepwear company, Helena Quinn—which bears her grandmother's name. The brand's sexy menswear-inspired pj's are hand-produced from silk fibers found in nature, don't use fossil fuel energy, and are 100% recyclable.
If you've never owned a pair of silk PJs, you're just going to have to trust us that a silk robe just feels so much better than sweatpants. This is the gift you've been waiting for…
Miranda Kerr in Helena Quinn
Helena Quinn's gorgeous Silk Short Robes have us feeling ourselves big time this holiday season and we're wanting to gift every woman we love with the same experience!
Whether enjoying the day at home, taking a blitz of Zoom calls, or gearing up for a cozy evening with a significant other (or even yourself!), these silk robes, slip dresses and menswear-inspired pajamas will take your at-home look to a whole other level! (We love her silk pajama top worn with jeans too! Remember jeans?)
 We're thrilled to feature the Silk Short Robe inTCM's 12 Days of Holiday Gifts!
THE GIFT: Helena Quinn Silk Short Robe in Black Rose. Whether you're feeling like Diane Lane in Unfaithful or like Cameron Diaz in The Holiday, the Silk Short Robe will make you feel like the ultimate Hollywood starlet.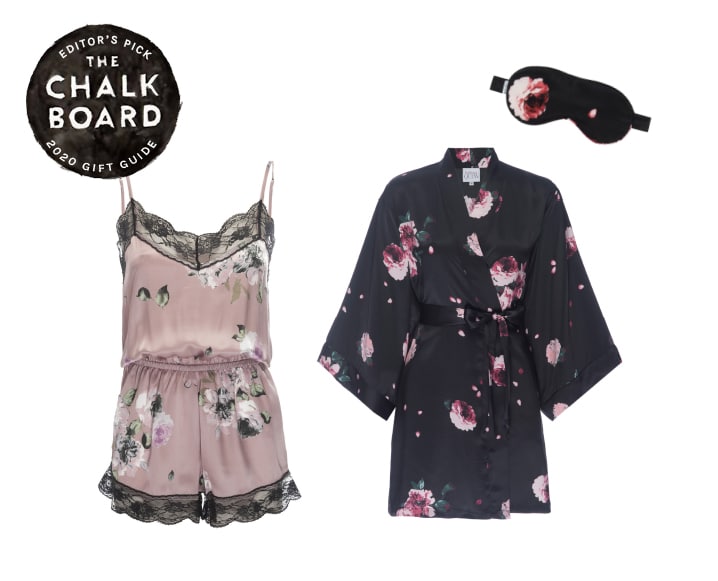 And yet, this robe would still make a great gift for your mom to lounge around in at home (perhaps in the full-length version!) 

We've owned a few different colors and prints of this robe for years and are just short of obsessed. We're not alone, as you can see from a quick glimpse through Helena Quinn's Instagram feed filled with celebs from Miranda Kerr to Oprah who live in the looks too! 

WHY WE'RE OBSESSED: They say to "dress for the job you want," but what about dressing for the luxury you deserve?! Once you get your hands on one silk piece from Helena Quinn, you're going to want to stick to silk for the rest of your WFH days  (just add Nancy Meyers movies).
This day-to-night silk kimono-esque robe will elevate any moment for those who need a little WFH pick-me-up to re-engage all of the senses throughout the day—even while making your morning coffee. 
Thinking of gifting the robe to someone else? Add their matching Silk Sleep Mask — the ultimate little luxury to keep wrinkles around the eye area at bay overnight and to block out any ambient light during the night (or nap time).  
WHY IT MADE THE GIFT GUIDE: The Silk Short Robe is that thing you've been missing as you endure the everyday banalities that life at home currently has to offer. What we love most about it—aside from the fact that we're writing this piece while wearing this robe—is that changing one small detail in our personal routines was enough to elevate our entire day. 
Another reason this made the list is the wide variety of colors and styles so that you can gift everyone on your list! Helena Quinn offers silkwear for every occasions; the robe serves up a sexy look that you can still function in, the Silk Sleep Shirt is the perfect take-me-seriously-while-I-sleep moment, and the Slip Dress is giving us major make-the-honeymoon-last vibes. Pair it with a jacket to make those rare runs out the door. 
Helena Quinn has mastered the art of dressing women up while they're dressing down. From sexy to serious to self-indulgent, there's something in the line that's perfect for every mood…even if that means having to take more video calls with the camera off.