Does changing your skincare through the seasons sound like a high-maintenance habit for product junkies only? The truth is that 'summer-izing' your skincare is a worthwhile endeavor if you want to even basically maintain good summer skin, especially when the temps are record-breaking!
We've pulled together our top lightweight moisturizers, breakout banishing oils, flattering luminizers and tinted sunscreens to help you through this season of heat waves…
14 Clean Skincare Products for Good Summer Skin
No Thank You Activated Charcoal Facial Cleanser | If you're dealing with high temps and constant sweat, try a cleanser like No Thank You's with activated charcoal. While the cleanser is gentle, charcoal is powerful — we recommend using just once a day or a few times a week on weeks when skin really need a deep clean.

TENOVERTEN THE ROSE OIL | A good cuticle oil can go a long way. If you pick the right format, like this rollerball from TenOverTen, it's also incredibly quick to use. Even if you're using gallons of oil on your hand and legs this summer, go over your finger and toe nails with this nourishing and growth-encouraging oil for a layer of healthy polish you'll appreciate. Our pre-sandal ritual May through August
KYprIS beauty Clearing Serum | This breakout-quelling superstuff is hand's down the best clearing serum we've tried. The tiniest drop quickly banishes breakouts without irritation or peeling. We've featured it so many times here on TCM, but just can't stop. A blend of soothing and clearing herbal ingredients are just what every face needs this summer. SHOP NOW 
PAI's the impossible glow | This bronzy liquid is absolutely irresistible and we'll have it tucked into our summer luggage weekend after weekend. Everything Pai makes is specifically designed for sensitive skin which makes the Impossible Glow the perfect product for overly warm months. Lightweight and illuminating, these bronzing drops can be mixed with sunscreen or daily moisturizer for a glow that's also wrapped up in hyaluronic acid. SHOP NOW 
ZITSTICKA HYPER FADE | Zitsticka's microdart patches are designed to address post-acne dark spots specifically. If you've done all the hard work to get your skin clear, you owe it to yourself to eradicate any leftover dark spots with these satisfying patches! We've tested these and they work shockingly well. SHOP NOW 
Wildling's Aura stone is our go-to, but the full Wildling set with facial spritz, facial oil and stone is a full self-care experience. While the effects of gua sha are cumulative, just a short daily routine can achieve a noticeable impact. Use a gua sha facial massage after cleansing and oiling your skin to encourage blood and lymph flow as your skin deals with more sun, salt, travel and all the other skincare challenges the season brings.
Herbivore After Sun Soothing Mist | Take this lightly hydrating and soothing mist to the beach and keep it in the cooler. Mint, lavender and aloe will soothe and hydrate, plus refresh your senses, which is half the battle in the heat. Use it at home to soothe skin at the end of a hot day. SHOP NOW 
OSEA Hyaluronic sea serum | Speaking of hyaluronic acid, we know you've heard the hype, but if you've never tried Osea's Hyaluronic, let us assure you — this serum is one of our all-timers. We always return to this gel-like serum for the perfect layer of moisture under cream or oil or on it's own very super-sticky days. SHOP NOW 
TOWER 28 BEAUTY BRONZINO | Tower 28 launched this creamy, alluring bronzer last summer and it's the real deal. As blendable as the best luminizers out there and with the perfect amount of shimmer and pigment, there's little this new bronzer can't do. While you'll likely get more sun this season, protect your skin and fake some of that glow out with an easy to apply product like this one on temples, nose and cheekbones. Swipe one up for twenty bucks and keep in your bag all season long.
IRIS&ROMEO BEST SKIN DAYS | Another do-it-all product we're loving for summer is the Best Skin Days by Iris & Romeo. Rich and nourishing enough to replace your moisturizer, but with the kind of coverage that might surprise you (as in, it's not pasty or invisible like so many other multi-functioning products), Best Skin Days is a really fun product to have on hand for road trips, hikes with friends and days spent in the sun. Everyone we know who's tried it is in love.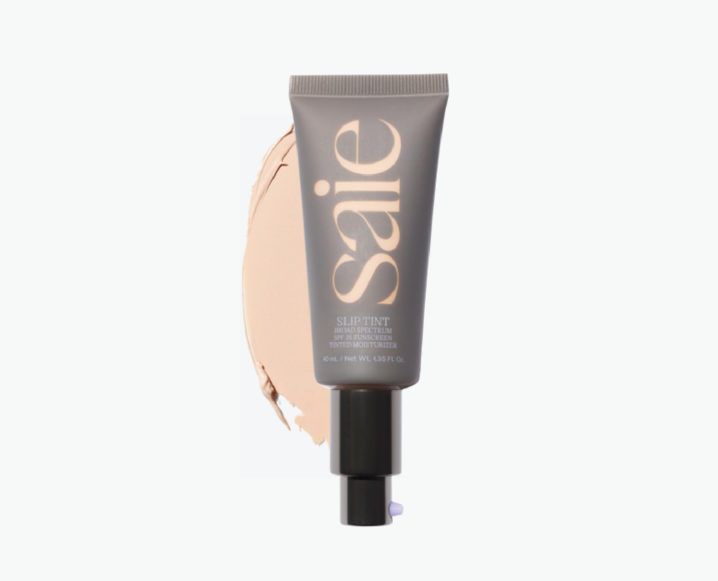 SAIE SLIPCOVER SPF TINTED MOISTURIZER | Sometimes you wonder if there is room left in the market for new beauty brands, then a brand like SAIE launches proving that yes, there is. Saie's tinted moisturizer is the ultimate WFH beauty product giving a beautiful sheen of coverage along with SPF without any sticky, heavy feel. We're honestly obsessed with this one.
NUCIFERA MULTI-PURPOSE BODY OIL | The multi-use beauty balm brand with a cult following launched a body oil with instant appeal last year. Nucifera lovers include those who struggle with tough to treat skincare issues like eczema that are soothed with the brand's organic blend of incredibly great-smelling oils. Use this naturally-scented oil as a light perfume and deeply nourishing conditioner for bar legs and arms.
COOLA ORGANIC SUNLESS TAN ANTI-AGING FACE SERUM

 | Add a touch of COOLA's tanning serum to your moisturizer or use on it's own for gradual color that's perfect year round. The argan oil, hyaluronic acid and vitamin C packed serum is great for your skin and color lasts up to 3 days from application time.