DID YOU KNOW that Purely Elizabeth, one of the most recognizable gluten-free brands out there, is made by a real person whose actual name is Elizabeth? It's true, we've met her, and she's as cool as you'd expect a Colorado-based natural foods boss to be.
To us, the Purely Elizabeth brand symbolizes a key moment in the wellness lifestyle 'movement'. It's one of the very first gluten-free brands we remember seeing while grocery shopping around the time we launched The Chalkboard. Elizabeth Stein's beautifully packaged bags of grain-free granola were a huge cue that wellness was about to go big — and we no longer had to sacrifice our love for well-designed goods in our pursuit of good health!
If you're a Purely Elizabeth devotee you probably know what we're talking about. We've partnered with Elizabeth and her team to bring you an exclusive shopping opportunity to stock your pantries for the fall season and interviewed Elizabeth to talk to her about the wild journey she's been on since launching the brand in 2009!
Elizabeth once famously wrote, "Start a natural foods company." down on a blank piece of paper while in class at holistic nutrition school. Boy did she ever! Here's Elizabeth on the whole delicious journey…
Right off the bat, what is your favorite Purely Elizabeth product? Our OG Granola.
Talk to us about the beginnings of your journey! Grocery and wellness were so different when you started in 2009…
In the beginning, everything was so new to me, and incredibly enthralling. I dove in head first, no fear, ready to take on the world.
When I launched in 2009, there were very few healthy, gluten-free products on shelves and no one knew about chia seeds or coconut sugar. I remember having to explain these incredible ingredients to every retailer!
It's incredible to think about how far we've come over the last 12 years and how energized I still remain each and every day. I feel the same passion and drive today that I did from the start.
What put us on the map immediately was the fact that we were offering something so unique at the time.
What was the first product you made? Assuming, one of the grain-free granolas?
Actually, I initially launched Purely Elizabeth with three muffin mixes and a pancake mix. The mixes were the first of their kind — made with millet flour, almond flour, chia, flax, hemp and coconut sugar. We launched granolas two years later in 2011.
When did you know you really had something? Do you remember there being a specific moment? 
We actually knew we had something consumers wanted from the beginning. I built the business demoing and sampling at live events, so that gave me instant feedback. We knew that people not only liked the product, but also thought it was different from what was available in the market.
Ultimately, the moment when I really thought we'd "made it" was when I got an email from Whole Foods saying they were pushing us out into every region (instead of just the four we were in), because our product sales were so incredibly strong.
Does your family help test the products? Do you put granolas or mixes past them while trialing new ideas?
My mom was actually the reason we started making granola. I made our Original Ancient Grain Granola recipe for her at home one day and we haven't changed the recipe since.
Let's talk about the granola. You basically transformed this food category in total. For those who are still apprehensive about granola from the days in which it was a processed sugar and oil bomb, set the record straight:
It's all about ingredients. And we focus on using the best intentional ingredients, including coconut oil, coconut sugar, then a mix of organic gluten-free oats, quinoa, amaranth and chia.
Of course our grain-free granolas don't use those grains and instead use a blend of cashews, pumpkin seeds and sunflower seeds.
Your Chocolate Sea Salt Probiotics granola is basically a food group unto itself. It's so good. Is it a best-seller and how do you like to enjoy it yourself?
It's actually our #2 selling granola. We launched it back in 2014 , and it was definitely one of the first food products to be made with probiotics. It's funny because I don't really like chocolate, but I absolutely love this flavor. I love it on top of smoothies or just straight out of the bag.
Making healthy products that people actually like must feel pretty great? Especially for those of us who require a gluten-free diet or have gluten-free kids.
We constantly have consumers reaching out to us to share how our products have made it easy for them to eat healthier without feeling like they need to sacrifice anything. Our priority when making new products is that taste comes first, but we also incorporate ingredients that are nutritionally beneficial on top of that.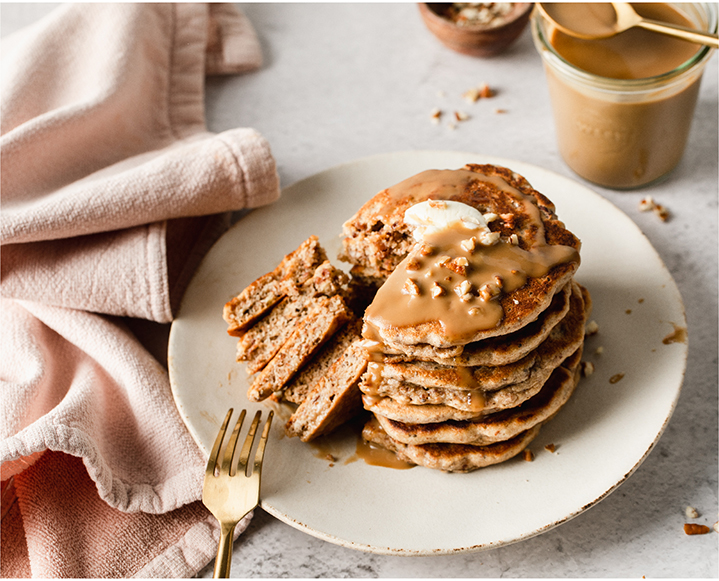 You started off very gluten-free focused, but expanded to products that are keto-friendly or entirely grain-free as well. When did you decide to make those moves?
Adding grain-free products to our line up started in 2014 when we launched our grain-free granolas. At the time, they were also naturally Keto, but Keto was so niche, we didn't even think about putting that on the packaging!
The intention for adding grain-free granola to our line-up really came from a personal desire as my own diet started to go more grain-free. When we think about the guardrails of our product lines, it really centers around my own personal dietary beliefs.
Fast forward to today and Purely Elizabeth is now in over 15,000 stores including Whole Foods, Target, Kroger and Walmart. What are you most stoked about in your business?
We are at an incredibly exciting phase of the business where we are reaching more consumers than I could have ever imagined and are truly able to help consumers on their wellness journey.
Today, I'm most stoked about our new podcast, Live Purely, where I'm able to share expert advice to help our community. Additionally, we've been working on some top secret innovation launching in 2022, that I absolutely can't wait to share!
Your social media following includes an impressive mix of well-styled foodies and wellness content creators! What are people creating lately that impresses you the most?
I've always loved seeing the innovative ways our community uses our products in recipes. If I had to pick one, I would probably say cheesecake bars with a granola crust! It's a simple swap, but tastes delicious and is versatile with all of our flavors of granola (you literally just blend up a bag of granola and add coconut oil!).
My favorite desserts are always centered around berries. This seasonal crisp is my absolute favorite, easy to swap in any fruit, and super quick to make.
Lastly, although you're a pretty low-key founder — someone who basically prefers to be out on the trails living that lifestyle or creating new product than relentlessly hitting up the press, you nonetheless are a huge inspiration to brand founders in this space, especially women. What's your best advice to those you ask lately?
One of the most important things I've realized recently is that having absolute passion and conviction for your product or service is essential when launching. That passion has carried me 12 years later! Knowing how consuming it is to have your own business, you have to realize in the beginning that this will be your baby and take up most of your everyday life. It's a huge decision and commitment.

This story is brought to you in partnership with Purely Elizabeth. From time to time, TCM editors choose to partner with brands we believe in to bring our readers special offers. The Chalkboard Mag and its materials are not intended to treat, diagnose, cure or prevent any disease. All material on The Chalkboard Mag is provided for educational purposes only. Always seek the advice of your physician or another qualified healthcare provider for any questions you have regarding a medical condition, and before undertaking any diet, exercise or other health-related programs.