Interior designer Jake Arnold creates the kind of visual majesty that has A-listers and design snobs drooling from coast to coast. Every time we pick up an issue of Architectural Digest, another one of his sublime creations is gracing the centerfold. We gushed over Katherine Power (Who What Wear) and Justin Coit's Euro charm meets Cali cool Spanish Colonial and melted when we stepped into celeb facialist's Shani Darden's flagship spot. This week, AD is debuting another exquisite Arnold creation —actor Aaron Paul and wife Lauren's rustic-chic Idaho retreat. Lucky us, we've snagged Jake for this designer spotlight and we're holding on to his every last word. We know you will too…
photo credit: Matt Hartz
Favorite three elements In A Well-Designed Room: Layers, linen and light.
My Signature Touch Is: Creating mood with rich materials and accent lighting.
Favorite Design Trend Right Now: Less is more.
Trend You're Ready To See Go: Farmhouse.
Biggest Decor Mistake Most People Make: Over-thinking each individual piece instead of focusing on creating a vibe or environment.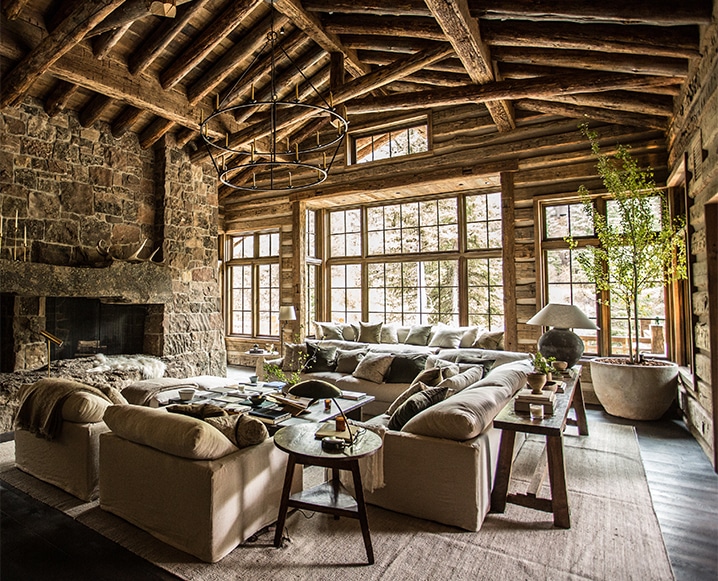 Design Rule You Love To Break: Mixing styles. I don't like it when people ask me what my style is because I design based on feeling and mood, which means mixing materials, eras and shapes.
Favorite Eco Design Tips: Buy vintage and recover old furniture pieces that have good silhouettes.
Favorite Natural Materials: Walnut, marble and travertine.
Tips For Creating An Intentional Space: Mix new, old, feminine and masculine silhouettes, fabrics and materials to create a well-balanced room.
Favorite Home/Decor Shops: Obsolete, Galerie Half, Espasso, Sumner, Nickey Kehoe
Favorite Current Design Project: Designing a ground-up house on the water in Fort Lauderdale that is playful and using color in an intentional way.
Item That Instantly Upgrades A Space: Large interior trees add instant life to a room.
Current Design Mantra: Context context context.
Love great design as much as we do? Explore it all here!