Everyone knows that prepping for date night is the best part of the evening (well, almost). Enjoy the sense of anticipation, a good playlist and this round-up of date night beauty essentials. We've chosen six sexy — if unexpected — picks to get you gorgeous and put you in the mood…
Light up some incense to start getting in a date night mood. Traditionally crafted in Japan using the finest organic woods and essential oils, this incense offers a gentle fragrance and a smokeless burn. It's part of the Bodha collection of modern wellness products designed to engage the senses. 
Why We Love It: Designed in Los Angeles, all products are made using the finest natural ingredients and handcrafted by artisans. Earthy wood notes of hinoki, cedar and frankincense inspire grounding and focus—ideal before and after travel.
necessaire sandalwood body wasH | shop now
We're obsessed with new brand, Necessaire (from a former Glossier player). And it's all about this Sandalwood scent! Hop in the most luxe smelling shower ever with this gel-oil cleanser that helps promote skin health.
Why We Love It: Winner of Allure magazine's 'Best of Beauty' award for Best Clean Beauty Body, these wellness products are free of sulfates, phthalates, parabens, petrochemicals, mineral oil, silicone and talc (also free of BPAs and GMOs, cruelty-free, vegan).
What's In It: Rich in vitamins, its formula also includes luxe oils of marula, cacay and meadowfoam to help nourish and soften skin. Mild plant-derived surfactants gently cleanse without stripping or leaving residue. It's also formulated with vitamins A, B3, C and E, along with omegas-6 and 9 and antioxidants, too. The formula's pH level is 5.5–6.5. Nécessaire formulates to pH levels that support your natural pH and barrier function.
Reverie 'oath' botanical perfume | shop now
Made by clean hair brand, Reverie, this all-natural formula is made for misting in hair, body — everywhere. The essence is sensual, warm, spicy and unisex.
Why We Love It:  OATH embodies the beauty of thoughtful craftsmanship – infused with sixteen globally sourced essential oils the fragrance is super-clean. Nostalgic notes of bergamot, bourbon vanilla and vetiver, make OATH a mindfully crafted scent for both hair and body.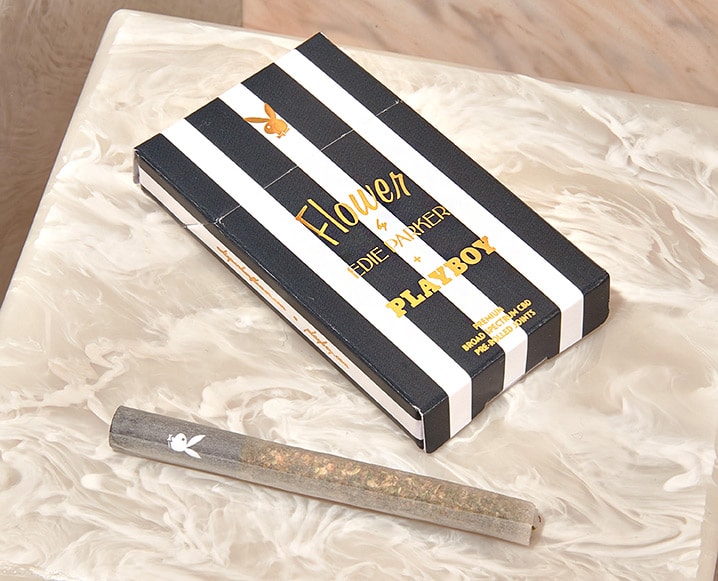 flower by edie parker x playboy cbd pre-roll
| shop now

If this doesn't stop you mid-scroll, we're not sure what would. In a "joint" effort to bring relaxation and good times to the masses, Flower by Edie Parker has collaborated with American heritage brand Playboy (mixed feelings, you?). These limited-edition CBD-only joints, come pre-rolled like an Old Hollywood cigarette and come in a gorgeous, yet discreet case. The Flower by Edie Parker x Playboy CBD Pre Roll features organically-grown broad-spectrum CBD flower and is available to ship nationwide in all 50 states.
How To Use: Do you really need to ask?
F. MILLER face + body oil set | shop now
Don't you adore a minimal bottle of face or skin oil like F. Miller?  These ingredients read like poetry: argan oil, sweet almond oil, apricot kernel oil, jojoba oil, rosehip seed oil, evening primrose oil, pomegranate seed oil, sunflower oil, tamanu oil, essential oils of neroli, jasmine, frankincense, lavender, bergamot, neroli, grapefruit, palmarosa and more…
Why We Love It:  This travel-friendly set of three daily hydrating essentials includes body oil, face oil and lip balm with a twist bottom. The formulas are all-natural, sensual and warm. This perfectly sized kit fits in your purse for an impromptu sleepover. Just sayin'…
Kosas has quickly become a cult staple in our beauty routine and their new hybrid lip treatment and gloss has become our date night beauty go-to. Packed with peptides that plump and hydrate, Wet provides a juicy slick of color.
Why We Love It: It's hard to find a great lip gloss that won't also dry your lips or make you feel like you're wearing glue. This gloss is nourishing, while still providing the full lip gloss experience we crave. Hyaluronic acid, peptides, evening primrose oil and other botanicals work to hydrate, plump, and protect the lips. The non-sticky formula slides on smooth to give you a soft, comfortable feel and slick, vinyl look.

Cinnamon projects 11:00pm perfume
| shop now
We swoon for all things Cinnamon Projects. Their incense is one thing, but their sophisticated line of roll-on perfumes is even better (if possible).
Why We Love It: These perfume rollerballs come in scents for every period of the day. Clever. We picked 11:00PM for obvious reasions, with hand blended premium ingredients like amber, clove, carnation and patchouli.You'll feel that delicious midnight feeling for sure.