Yes, there are a million cafe in Los Angeles, but no, not all of them nail the three things we need: healthy eats that taste good (that's two things!) and a well-designed environment. Nothing is more exciting than discovering a local gem that balances a beautiful space with healthy bites.
Bondi Harvest's new Culver City set-up at Platform takes on nutritious eats in a thoughtfully designed, refreshingly modern and sun-drenched interior. Their new Los Angeles location (the OG was a tiny and charming spot in Santa Monica) is everything we're after in an afternoon hang and chef Guy Turland seems to be right at home serving his wholesome menu here with all the Aussie beach vibes. Think: sunny, seasonal, vibrant and zingily fresh flavors…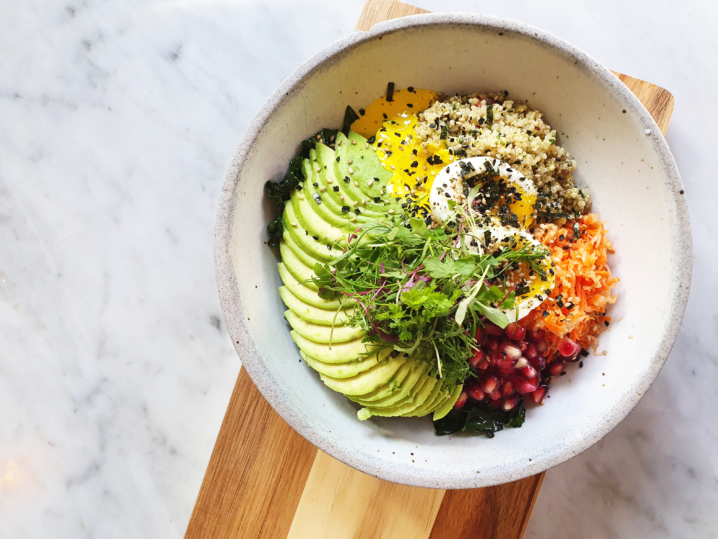 What we ate: We popped in to sample what Chef Guy Turland is serving up and knew he wouldn't disappoint. Brussel sprout fans will rejoice with a sweet and sour number that comes resting atop a mound of almond whip. Turmeric and fermented veggies fanatics will find heaven in the rainbow bowl that adds quinoa tabouli, pomegranate, avo and an egg into the mix. And breakfast has never been as delish since these squash pancakes came into our lives. The avo chocolate mousse that comes on top is just icing on the (pan)cake.
Why we ate it: Almost all the menu options here are maxed out with greens and superfoods. There are vegetarian, gluten-free and vegan options and you can add fish and chicken to everything.
Why you need: There's so much to dive into at Bondi Harvest from breakfast, bowls, salads and wraps to CBD and collagen smoothies, cocktails and get this, 'babyccinos' for the kids. Try an Aussie classic Big Surfers Brekkie than take a stroll around Platform LA, one of our fave prime shopping locales.
All this talk making you hungry for more?
Check out more healthy bites around town with our LA + NYC Bite Of The Month series!