We've gathered a few experiential Valentine's Day ideas for men that we think you'll love. Each pick embodies sensuality and connection in ways that have nothing to do with the act itself. Whether it's shopping for your man, getting a tattoo with Winterstone or sharing a few high-vibe desserts, let our list inspire the best day together ever…
7 Experiential Valentine's Day Ideas For Men
tattoos with Winterstone | book an appointment
If you love your man, tell him so, indelibly, with a coveted single-needle tattoo from Los Angeles-based tattoo star, Winterstone.
You'll be in good company on a waiting list behind Lady Gaga or a Jonas brother, but that'll give him plenty of time to think about what he wants. Unlike love, tattoos are forever, and h
e'll want to love up the new ink with Doctor Rogers Restore Balm.  *Above, Anine Bing gifting a heart tat to her hubs.

a shopping experience at the optimist | SHOP NOW
Is there anything sexier than taking your man shopping? At The Optimist, a new design-forward Los Angeles menswear store, getting in the mood is easy. The shop is so fashion mood you'll hunker down in the living room setting and never leave. A perfect spot to lounge while he tries on outfits and preens for your approval. This swanky, light-filled shop boasts personal styling sessions with an in-house stylist who also works with Harry Styles and David Beckham.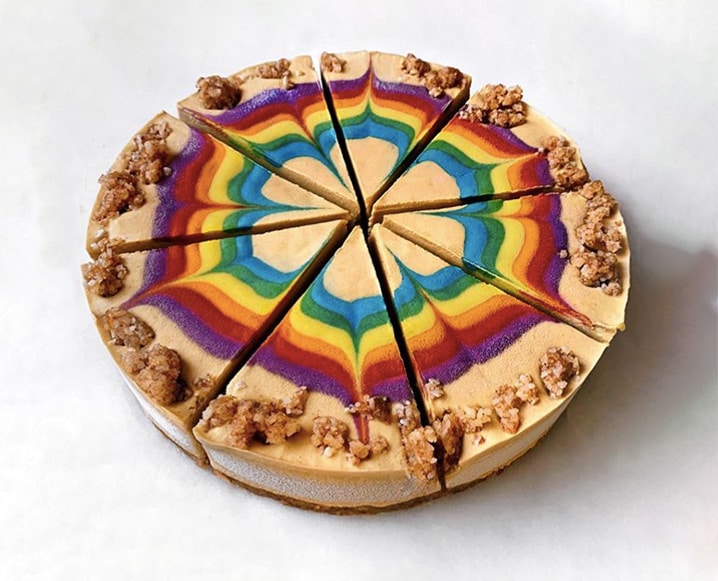 stephen mccarty vegan cheesecakes | SHOP NOW
Did someone say organic raw vegan cheesecakes with
aphrodisiacs
? Psychedelic (un)baker McCarty makes ridiculously cool cakes and treats that are a work of art unto themselves. They're also healthy AF. Indulge in treats together that are also purported to support your chakras (why not?) for the best Valentine's Day breakfast ever.
Calm Down + rev up with Flora And Bast | Shop now
Flora and Bast's full-spectrum cannabis elixirs have your man's wind down routine covered. First, he'll relax in a hot shower and massage the Relief Serum into sore muscles (from all the shopping). Then, a few drops of Age Adapting Sleep Tincture under the tongue to ensure a relaxed evening. Nothing says I love you like a woman standing guard over her man's circadian rhythm.

light up with jade and juniper goods | SHOP NOW
If you're stuck in the big city this Valentine's Day, bring
Big Sur
, Baja, Idyllwild or Marin to
you
with the strike of a match. Set the mood for an evening in at home with these minimal, sustainable candles from Jade and Juniper Goods. They are made from all-natural eco-friendly, slow-burning coconut wax and high-quality fragrance oils in scent profiles that perfectly capture our favorite Cali get-aways. We love to light a thoughtfully designed, intention-setting candle for holding sacred space together.
That's a wrap on our picks for a loving Valentine's Day, the rest is up to you. Wink.