Hummus is one of our favorite food groups. We love it for bathing raw veggies in flavor, gluing a sandwich together or taking a snack spread to the next level. The nutrient-dense plant-based dip is a healthy, flavorful and supremely adaptive way to boost the overall health factor of just about any meal — and these homemade hummus recipes take it to the next level.
Making hummus at home is a shockingly simple process that ensures that this addictive dip reaches its full nutritional potential. In its most basic form, the blend of chickpeas, lemon and olive oil is an excellent source of protein, healthy fat and fiber. Amped up with fresh herbs, spices and other seasonal ingredients, and hummus is instantly transformed into a total nutrition bomb.
Discover our favorite hummus recipes and how to use each one…
Lemon Thyme Hummus
| Tangy and savory, this humus adds a kick of flavor to any dish. Thanks to the combination of white beans and garbanzo beans, this hummus is rich in fiber, protein, folate, iron and B vitamins.
READ MORE
Neon Pink Beet Hummus
| The only thing we love more than a dollop of homemade hummus is one that looks this pretty. The homemade hummus above gets its gorgeous pink color from beets, which add antioxidants galore to basic hummus recipes.
READ MORE
Fava Bean Hummus
| Eat hummus, but make it fashion. This gorgeously green hummus recipe comes from one of the trendiest hotel bars in LA.
READ MORE
Artichoke Hummus
| A perfectly healthy option for parties, this hummus balances out the richness of the rest of the items and shows that you are a thoughtful host, keeping health-conscious guests in mind.
READ MORE
ROASTED PUMPKIN AND ROSEMARY HUMMUS
| The earthy pumpkin and fragrant rosemary makes this hummus an ideal condiment for clean proteins like chicken or grass-fed beef.
READ MORE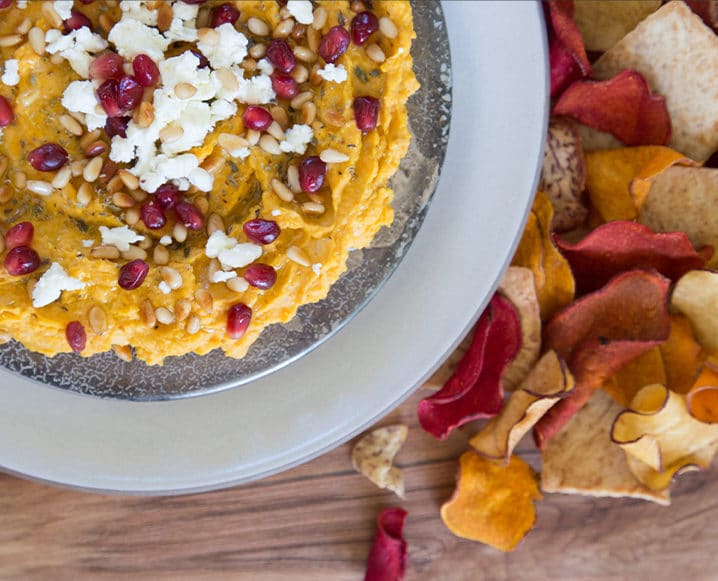 BUTTERNUT SQUASH HUMMUS
| This seasonal twist is a dream for Thanksgiving, but tastes just as good any time of the year.
READ MORE