There are beauty products and then there are cult beauty products. The latter are usually so delightful, so effective, well-packaged and universally flattering that devotees scramble to buy them when in stock and sing their praises constantly via the interweb.
Five brands whose products have cult followings have recently launched new products with similar or complementary benefits, including Vintner's Daughter who's new 'essence' is their second ever product launch.
Everything here is TCM-approved, culty AF, and available at The Detox Market in New York,  L.A. and online. We can vouch for these five new products, plus the OG hero products that first got us hooked…

Vintner's Daughter
the CLASSIC: Vintner's Daughter Active Botanical Serum | The serum that started a cult following. Inspired by her Napa Valley upbringing, founder April Gargiulo development of this game-changing skin food serum that addresses the root causes of imbalance to improve breakouts, fine lines, tone, texture, brightness, and hydration. It's made with 22 skin-beautifying botanicals that smell like heaven and come with their own push-and-press application routine. CHECK OUT
the NEW: Vintner's Daughter Active Treatment Essence |
This water-like multi-corrective hydration serum delivers optimal nutrition straight to the skin. It's already sold out at some retailers to if you're going to check it out, make it quick. The Essence is meant to be applied beneath the active botanical serum for deep hydration and aids in micro-exfoliation, brightening and firming. Made from 13 nutrient-rich botanicals, including a unique fermentation component to amplify absorption, the formula is a daily power player to swipe on skin beneath all other treatments for repairing and protecting the skin.
CHECK OUT
ILIA Beauty
the CLASSIC: Ilia tinted lip conditioner | It was love at first swipe of ILIA's classic tinted lip conditioner, and a key reason why they've become one of our favorite clean beauty brands. Each deeply hydrating stick carries a sheer touch of color that increases in intensity when layered. Probably the easiest lip product ever to wear — and one of the most chic. CHECK OUT
the NEW: Ilia Colorblock high impact lipstick | If you love the moisture in the tinted conditioner, but want way more color, ILIA has got you too. Made with sunflower seed wax, vitamin E loaded apricot oil, and mango seed butter (rich in vitamin A and C), these bold lip colors comes on strong while keeping lips soft and hydrated. Just one swipe provides full coverage and lips are left feeling nourished for hours after. CHECK OUT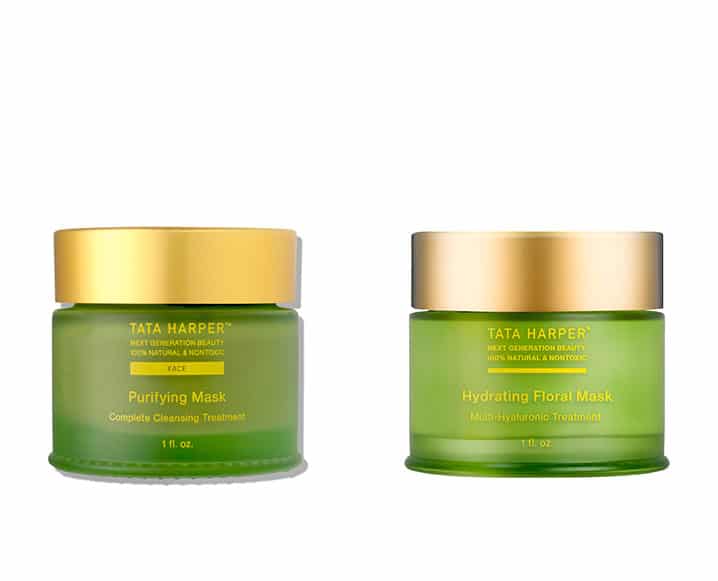 Tata Harper
the CLASSIC: Tata Harper Purifying Mask | Tata Harper's Purifying Mask was created to address the larger issue of chemical and toxic pollutants that we are exposed to on a daily basis. There's a reason why it's become such a classic — the formula harnesses the power of fermentation and probiotics to deeply cleanse and detoxify the skin, while encouraging the skin's own detoxification processes from a cellular level. Also, who could resist this packaging? CHECK OUT
the NEW: Tata Harper Hydrating Floral Mask | Aside from the divine scent, we love how this new mask from Tata Harper contains multiple sizes of hyaluronic acid to deliver deep and lasting moisture. This mask is ideal for those with dry skin or uneven tone — it can even be used as an overnight mask. CHECK OUT
Odacite
the CLASSIC: Odacite ultra effective eye cream |
This true-to-its-name formula visibly improves the appearance of the eye area thanks to powerful ingredients like mineral-rich blue-green algae, vitamin E, jojoba oil, and lavender. Hyaluronic acid and pomegranate promote firm and rejuvenated skin.
CHECK OUT

the NEW: Odacite Ba+ S Eye contour roller serum |
Rich in vitamins A, E and F plus plant sterols and Baobab oil, this compact roller ball serum is packed to play. As you massage the roller on your eye area, tension is relieved and the coolness is delivered into the skin, helping to smooth the look of wrinkles and improve the appearance of dark circles and puffiness. Keep it in the fridge for extra cooling benefits.
CHECK OUT
RMS
the CLASSIC: RMS Living Luminizer | An absolute must-have makeup staple from a truly classic clean beauty brand. This game-changing cream highlighter flatters all skin tones with a dewy coconut oil base that melts into skin. Expect natural shimmer, no sparkle — the Luminizer create a subtle gleam that never looks overdone.  CHECK OUT
the NEW: RMS Luminizing Powder | RMS's new luminizing powders impart the same lit-from-within glow we've come to love from their cream formulas but delivered in a powdered form. The powders can be built up for a bit of contouring or dusted in for an ultra-fine, luminous look. CHECK OUT 

This post is brought to you by The Detox Market. Click here to find green beauty brands to detoxify your life – including organic skin care, natural makeup, 5-free nail polish, clean hair care, wellness teas and more.