New year, new look? Not if you mean giving up our latest collection of loungewear. We'll be wearing these incredibly comfortable and well-designed sets everywhere this year thanks to three of our favorite activewear brands: Set Active — whose colors are some of the best in the biz; Varley — who makes the best prints, and Bandier — who retails all the coolest brands and makes collabs like this one with Sincerely Jules that we're ready to wear daily.
They key to all these cozy, head-to-looks? Chic, wearable colors, the softest fabrics, and cuts that'll make you feel like a million bucks whether you're heading out for a hike or staying in for a good read.
This Year's 7 Coolest Fitnesswear Looks
Sincerely Jules for Bandier Active Kits | We love a head-to-color for leggings and bras, but so many brands make us buy them piece by piece. We're swooning over Bandier's 'kits' that let us click and buy a full outfit in one fell swoop. Even better? These legging and bra sets come with sherpa cover-ups from the brand's collab with Sincerly Jules. We love the look — and the price point. Shop the kit in all black with black sherpa or tan with white sherpa shacket.
SET Active Bras, Leggings + Sweatpants | Set Active is one of those brands we fell in love with at first sight. Girls in the know having been playing favorite with these sets because every colorway. If you fall in love with the brand like we did, you'll have to stay on point: new colors drop constantly and sell out just as quickly. We love their vintage sweats, but the legging and longline bra sets cannot be missed in hues you'll love to live in! SHOP NOW 
Carbon38 High-Waisted Legging | (Shown at top) Carbon38 makes some of the most comfortable and flattering leggings in the biz. This crossover style has become a new staple for us in a nude shade that goes with just about everything. Pair with this easy top and consider yourself dressed for the day. SHOP NOW
Varley Menlo Top | One of our favorite fitnesswear brands, Varley now makes knitwear. Each piece is perfect for easy layering on top of their signature leggings. This Menlo sweater and snakeskin legging is everything we want to wear this season. SHOP NOW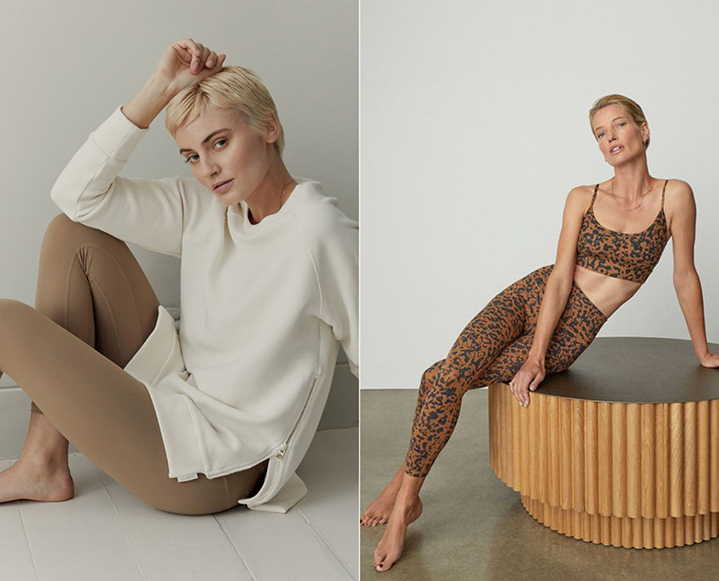 Varley Manning Ribbed Sweatshirt | As simple as this sweatshirt may seem, there's very little like it. Our team has this sweat in a few shades and, with its long, zippered sides and ribbed texture it's extremely wearable Monday through Sunday. Don't miss this as an elevated essential for life at home. SHOP NOW
Varley Let's Move Print Legging | There's leopard print — and then there's leopard print. Varley makes a few versions of animal print that we absolutely love — think subtle print and rich color. (Clearly, no animals were harmed in the making of these chic leggings!) SHOP NOW
What have you been shopping for since the top of the year? Share in the comments…