TCM Exclusive: Get 20% Off Sagely Naturals' Relief & Recovery Cream, Roll-On, Capsules + Spray
Now with code: CHALKBOARD

You can't dig around too far in wellness these days without running into two key topics: One is inflammation, the other is CBD — a non-psychoactive component of cannabis with major wellness benefits to boast.
On Inflammation… Over the last decade or so, inflammation has emerged as a potentially unifying theory behind disease. Occasional inflammation is normal, but chronic inflammation is a chief culprit found at the root of many modern diseases and physical ailments. From poor skin quality and minor aches and pains, to more serious chronic issues like arthritis and autoimmunity, there is increasing evidence that inflammation is playing a troublesome role.
On CBD… The benefits of CBD (and the rise in its popularity) have everything to do with inflammation. Like turmeric before it, CBD has become something of a health craze — and with good reason. Both substances have a positive impact on an impressive variety of health concerns. Sometimes people become skeptical when supplements claim to have benefits across such a wide variety of conditions. But with our growing understanding of inflammation, it becomes clearer that substances with powerful anti-inflammatory effects could have profound healing potential across a wide variety of conditions.
People are catching on to the benefits of CBD, and the CBD industry is blowing up as a result. While the quick growth means consumers must be careful where they shop, we're shining a light on brands like Sagely Naturals whose formulas are safe and reliable.
TCM Exclusive: Get 20% Off Sagely Naturals' Relief & Recovery Cream, Roll-On, Capsules + Spray
Now with code: CHALKBOARD
CBD for Aches + pains | While many of us are aware of the benefits of CBD when it comes to managing stress and anxiety, the science behind CBD's ability to relieve pain is also somewhat remarkable. One of our readers, who used Sagely Naturals' Relief & Recovery line of capsules and topicals, shared this feedback from a recent fitness class:
"As a spinning instructor, I am in constant pain for hours after every class and have never found anything that will help with the pain for a prolonged period of time. I have suffered from knee pain all my life and have been on a constant regiment of knee braces and creams — until I found this product!
The first night I applied it after my class, I was amazed at the instant relief I felt. It was the first time in years that I had pain relief for the whole night and even until the next day. I would recommend this to anyone who suffers from joint or muscle pain and wants instant and lasting relief." – Brenda
Here are the three notable benefits of CBD at work in Sagely Naturals' Relief + Recovery line…
CBD Reduces Inflammation | CBD is a potent anti-inflammatory agent that our bodies are primed to receive — learn about our innate endocannabinoid system here. CBD integrates with the human body to help bring it back to balance faster, effectively reducing aches and pains from muscle tear and swelling.
CBD Desensitizes Nerve Pain | Many athletes experience muscle aches from pushing themselves during training or nerve pain from overloading muscles in order to build greater strength and stamina. CBD works at the site of irritated nerve receptors by acting like a lock and key system with the human body's existing endocannabinoid system. It sends signals to the specific problem areas and prompts the body to balance itself out, reducing pain and speeding up muscle recovery.
CBD Quickens Muscle Repair | Going hard during workouts can lead to muscle strain, dehydration, trauma or damage to nerves. CBD has antispasmodic properties and works with receptors present at the site of muscular synapses. In less scientific terms, this means CBD helps muscles to rest and relax, encouraging faster muscle repair, growth and strengthening.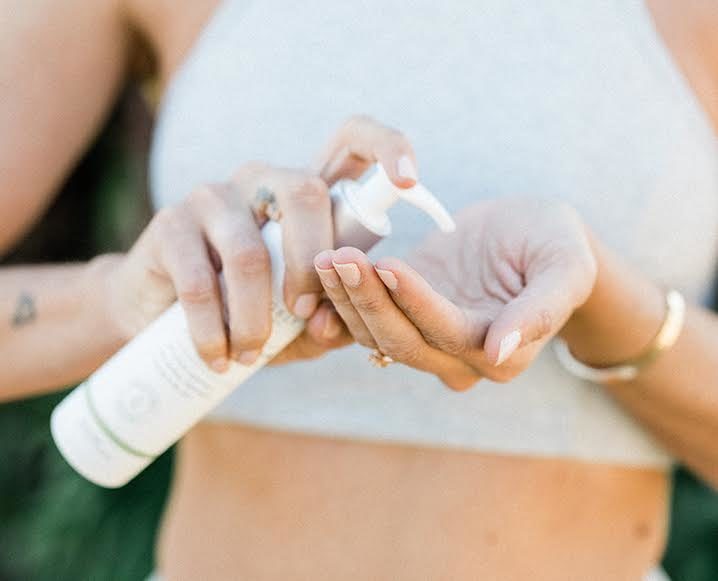 Sagely Naturals' innovative Relief & Recovery line includes four convenient options that work synergistically or can be used on their own. We love the Capsules for daily use and the Relief & Recovery Spray to keep in our gym bag at all times…
Relief & Recovery Capsules | Highly bioavailable CBD and turmeric with 10mg of CBD per capsule. Taken daily, they leave you feeling more comfortable and ready to live your life to the fullest. Shop Sagely Naturals 
Relief & Recovery Spray | Packed with CBD, essential oils and cooling menthol, Sagely Naturals Relief & Recovery spray helps refresh and revive your body. The hands-free application dries quickly, making it perfect for use at the gym or on-the-go. Shop Sagely Naturals 
Relief & Recovery Cream | This menthol-infused cream delivers a dose of CBD through the skin. It combats temporary or occasional physical discomfort, leaving you feeling more comfortable and relieved. Shop Sagely Naturals 
Relief & Recovery Roll-On | Loaded with CBD, essential oils (peppermint, rosemary and eucalyptus) and cooling menthol, this tiny but potent roll-on helps release tension and targets occasional or temporary discomfort. Shop Sagely Naturals 

TCM Exclusive: Get 20% Off Sagely Naturals' Relief & Recovery Cream, Roll-On, Capsules + Spray Now with code: CHALKBOARD. One use per customer. This offer can't be combined with other offers.

This post is brought to you by Sagely Naturals.
The Chalkboard Mag and its materials are not intended to treat, diagnose, cure or prevent any disease. All material on The Chalkboard Mag is provided for educational purposes only. Always seek the advice of your physician or another qualified healthcare provider for any questions you have regarding a medical condition, and before undertaking any diet, exercise or other health related program.