It's a challenge to find a gluten-free, yeast-free, whole grain pizza. Even a recipe that meets these standards is hard to come by. This whole grain (gluten-free, yeast-free) recipe was inspired by my absolute love of pizza. When I found out I could no longer eat yeast or gluten, I actually cried because I thought this meant I had to miss out on the taste of a truly great pizza pie. But I was wrong! I've been working with this recipe for about a year and love it!
For the Crust
3 cups quinoa flour, plus extra if needed and for dusting
½ cup of oatmeal flour (gluten-free oats)
1 tsp sea salt
1 tsp of stevia (optional)
1 cup plus 1/8 cup of warm filtered water
¼ cup, plus 2 TB of extra virgin olive oil
For the pizza toppings, throw on whatever your heart desires. We used a store bought organic tomato sauce and added olives, shitake mushrooms, yams, onions, shallots, raw goat cheese and lots of spinach.


Instructions for the Crust
1. In a large bowl, combine the flour, salt and stevia and mix well.
2. Create a well in the center of the dry ingredients and add 1 cup of warm water and ¼ cup of olive oil. Using a wooden spoon, stir the wet ingredients into the dry until the mixture is too stiff to stir, then mix with your hands in the bowl until the dough comes together and pulls away from the sides of the bowl. If it still seems dry, add a dash more oil or water. Add more flour if necessary to reach that consistency.
3. Lightly dust a work surface with flour and turn the dough out. Knead gently, dusting the work surface lightly with more flour as necessary, for 5 minutes or until the dough is smoother and only slightly sticky. If you prefer, you can skip this step and just mix with your hands in the bowl for 5 minutes until it reaches the correct consistency.
4. Place the dough onto an oiled baking sheet or oiled pizza sheet. Start to press down the dough to the desired shape. This may take some arm muscle since you aren't using the yeast. You want the crust to be as thin as possible.
5. Once the dough has been kneaded into your desired shape, pre-bake in the oven at 375F for about 10-15 minutes, until it reaches a light golden brown.
6. Take out, add toppings and bake for about 20 minutes or until the pizza crust is lightly brown and crispy.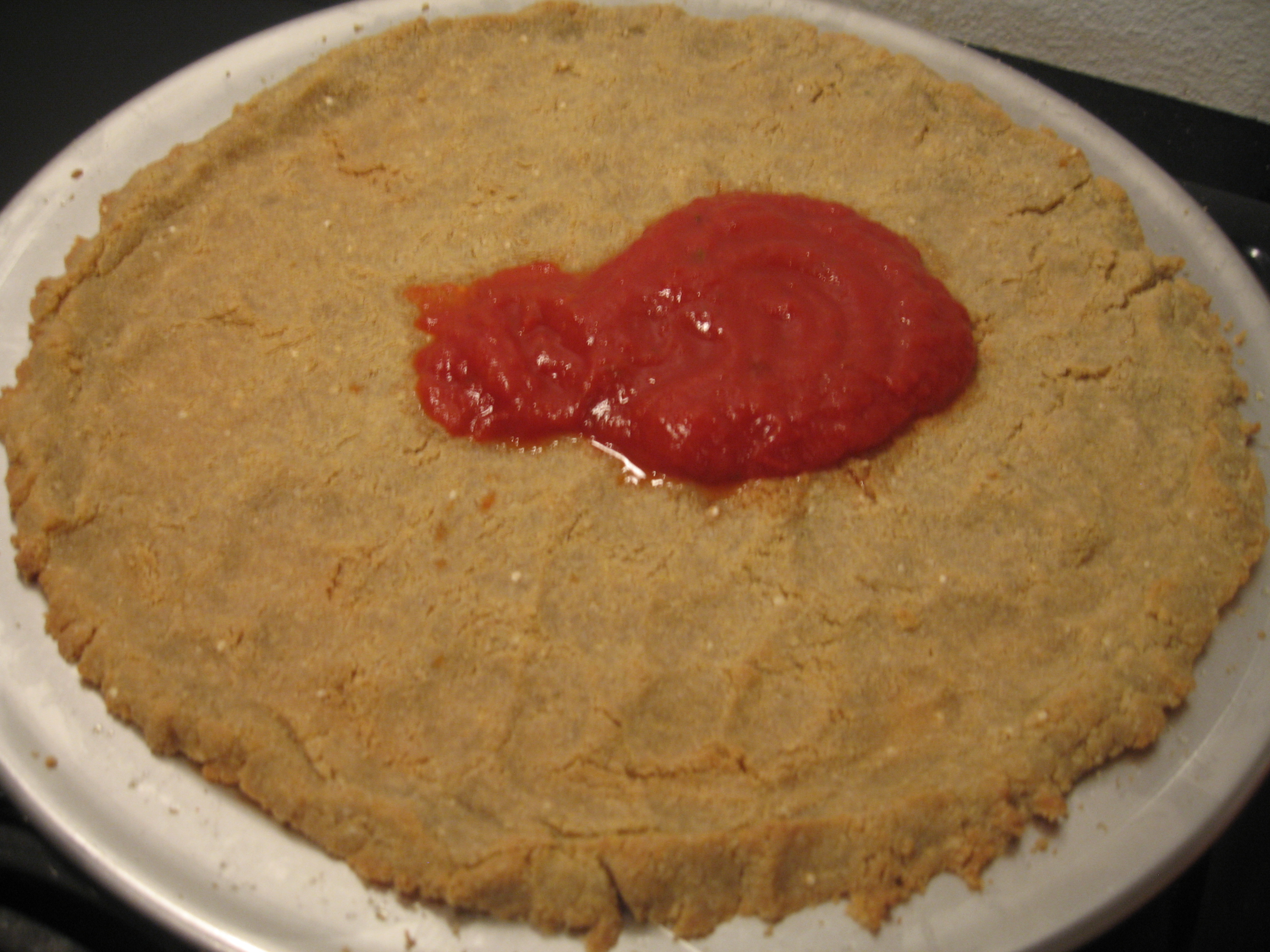 Note: If you have a Vita-mix flour attachment, it is really easy to make the quinoa and oatmeal flours. If you would like to substitute another gluten-free flour you have on hand, please know that the consistency may vary when subbing ingredients. But it will most likely turn out delish if you reach the right consistency.