No longer just for hippie dens and ancient temples, beautifully designed incense and accessories like the pieces below tell us this high-vibe home trend is here to stay.
We've gathered eleven gorgeous objects and incense options to fuel your obsession. Shop through, then enter to win one of our faves from gifting goddess Simone Le Blanc on our Instagram today…
Cinnamon Projects Chord S01 Box Gift Set in Solid Brass
| We've featured Cinnamon Projects again and again over the years. We can't quit the brand's sleek and timeless brass pieces and Japanese style incense sticks. This genius set comes with incense to burn at specific hours throughout the day.  
CHECK OUT
Hands InCense Holder Set
| Need an extra hand? We're swooning for this kitchy chic incense holder set designed to hold just about any type of incense. And great looking even when not burning. 
CHECK OUT
Bodha Modern Wellness Smokeless Organic Incense |
 Earthy, woody and unlike any incense you've seen before, this smokeless sticks are perfect for travel, the office or anywhere else you need a little aroma therapy magic. 
CHECK OUT
Moon Minded Medicine Holy Smokes Incense

| Crafted in California by the herbalists at Moon Minded Medicine, these unusual-looking incense sticks contain wild flower petals and herbs rolled into transparent rice paper.  CHECK OUT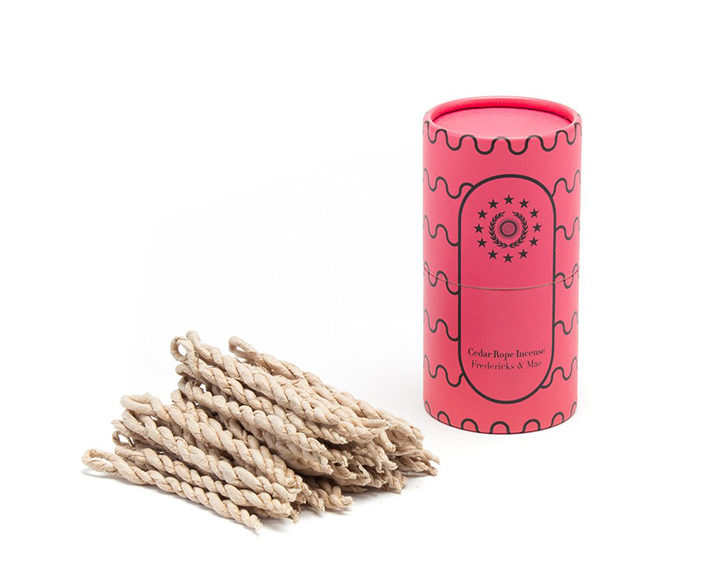 Fredericks & Mae Juniper Rope Incense 

| We love t
hese adorable, tiny roped incense bundles from Fredricks & Mae. They smells as great as they look, are easy to pack along for travel, and the pretty cases are reusable. 
CHECK OUT
Golda Hiba Wood Incense
| Made from the essential oil of Japan's 300-year-old Aomori Hiba trees, this gorgeous natural incense will clear the energy in your space, the germs from your air. and make it smell really, really delicious in the process. 
CHECK OUT
Juniper Ridge Sweetgrass Braid
| If you're over the standard smudge stick, this sustainably harvested sweetgrass smolders with earthy freshness and a hint of vanilla and makes a cute natural decor accessory if you're not ready to burn. If you're an incense lover and have never tried sweetgrass, it's a must try – and Juniper Ridge harvests some of the best. 
CHECK OUT
MAAPS Mesa Incense Sticks | Made from quality bamboo sticks, organic essential oils and natural resins these naturally scented sticks smell amazing, look gorgeous and treat the planet well. CHECK OUT 
Palo Santo sticks |
 Palo Santo, also known as holy wood, has energetic cleansing properties when burned. They also make our home smell like the cozy log cabin of our dreams. Keep a stack of sticks on hand and burn whenever you feel your space needs a quick clearing. 
CHECK OUT
Curious Clay Incense Hut | 

Pop any resin with a charcoal brick or incense cone into this hand crafted burner and watch the chimney smoke. Great for families for a boho-chic addition to any room. CHECK OUT
Bodha Modern Wellness Ritual Incense Holder | We discovered this simple beauty through gift whisperer, Simone Le Blanc. Hand-crafted from pure brass by a 100-year-old Japanese foundry, this tiny incense holder is the ultimate minimalist accessory. CHECK OUT

Enter to win: One lucky reader will win giftbox goddess Simone Le Blanc's new Mind Body Spirit Box designed to inspire a fresh perspective, including a wish journal, perfume oil, ritual incense and brass incense ball and more gorgeous hand-picked goods.
Head over to our Instagram today and follow the instructions in the caption! The giveaway is open to residents of the continental US only.